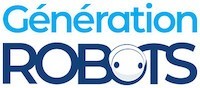 My Cart
0
item(s)
-
€0.00
There are no more items in your cart
Programmable robots for education | STEM | EdTech
Robotics is highly stimulating for the younger students, allowing them to grow important soft skills such as problem solving, creativity, team spirit. In higher education, robotics allows student to work with real hardware in order to be prepared for the challenges of the real physical work.
Educational robots, as well as electronic kits, are interesting teaching tools that will help going through many topics while keeping students engaged. Since 2016, computer coding has been part of the French school curriculum, with an introduction to robotics as early as cycle 1 (spatial awareness, logical thinking, etc).
There are educational robots suitable for all levels and age groups. Use the filters (age, programming language) on this page to find the robot best suited to your group of students.
Learning computer programming often go along growing other skills such as logical thinking, problem solving through tests, modifications and optimization, problem modeling, etc.
Using educational robots to learn algorithms (instead of only a computer) gives students the opportunity develop their "soft skills":
Work as a team
Project management
Develop creative solutions
Acquire the basics of a common knowledge in technology (design, mechanics, IoT)
Etc
Educational robots are great multidisciplinary tools
Robots can be used as a teaching medium in fields other than programming or technology. Often, robotics can be a part of other disciplines than programming or technology, and can be used as a tool for learning.
Often, robotics can go hand in hand with other fields such as electronics, home automation, etc:
Main subjects: technology, computer sciences or engineering
Biology
History
Visual arts or music
Robotics can be at the heart of a global project within a school
Robotics allows teachers in different fields (technology, visual arts, mathematics) to work together on a same project. It also allows students from different levels to work together.
Robotics is a unifying theme because it is both exciting and engaging, and can be used to address a wide range of issues:
Ecology: building a robot that collects litter
Social: a robot that helps grandparents
Space exploration
Etc
Robotics is a field that requires knowledge on different subjects such as:
Programming
Mathematics and geometry (angle calculation for example)
Physics (force or thrust)
Design and mechanics
Electronics
How can I quickly get to grips with my new educational robots?
We work with many institutions (schools, museums, media libraries). Even if we are not in direct contact with young people, we help these institutions choosing the right robotic equipment. We do not provide training but we have collected and written educational resources, which are available on our website.
Our recommendations, for each educational stage: