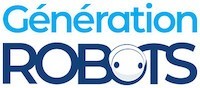 My Cart
0
item(s)
-
€0.00
There are no more items in your cart
Thymio: unplugged activities for the youngsters!
With its colorful graphical interface, Thymio II mobile robot is a safe bet for beginners to learn how to program robots, at any age. Produced by Mobsya, this educational robot is equipped with 9 sensors, which is a lot for a small educational robot! Right after unboxing the robot, it is possible to use it and discover its sensors and actuators, thanks to its 6 pre-programmed behaviors:
Friendly (green): Thymio follows an object located in front of it
Explorer (yellow): Thymio explores the world and avoids obstacles
Fearful (red): Thymio detects shocks, emptiness and detects Earth's gravity
Obedient (purple): Thymio is controlled with a remote or its buttons
Turquoise (investigator): Thymio follows lines
Blue (attentive): Thymio detects sounds and reacts to handclapping
A scalable robot suitable for different age groups (and Lego compatible!)
In addition to the pre-programmed behaviors, Thymio II offers numerous other possibilities. Compatible with LEGO bricks, it also has a pencil holder to draw on anything!
Thymio II robot includes many educational resources available for free. Indeed, its software and hardware design is 100% Open Source, as well as its numerous activities, thanks to the universities, high schools and people who contributed to the project.
Suitable to different age groups (from primary school to university), Thymio supports 5 programming languages:
VPL: very easy, ideal for young children who are just starting learning programming
Scratch 3 and Blockly: visual programming language based on instruction blocks. Can be easy or complex, with the addition of mathematics, logic, loops and variables
Python: a text-based language
Aseba: text language developed for Thymio to create more complex programs
What is the difference between Thymio and Wireless Thymio?
To transfer (or edit) your programs from the PC to the standard Thymio, they need to be connected with a USB cable (micro USB B to USB A).
With Wireless Thymio, on the other hand, it is possible to program the robot remotely, i.e. you won't need to connect it to your computer every time you want to create or edit the robot code. This way you can test your different codes more easily.
Wireless Thymio is equipped with a wireless module and comes with a USB dongle that needs to be plugged into your PC.
Moreover, you will need the Wireless version if you want to program Thymio with a tablet.