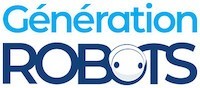 My Cart
0
item(s)
-
€0.00
There are no more items in your cart
List of products by brand Génération Robots Lab
A behaviour to install on your NAO robot so it will greet members of the public and carry out presentations you have designed. This behaviour is ideal for any organisation that has to receive members of the public and wants to stand out from the others as regards its innovation and technology capacity. The NAO robot attracts the public and performs interactive presentations that can include images, sounds, video, and quizzes.
Available
With the "Follow Me" application, you can take your Pepper robot by the hand, and he will gently follow you. This application has been developed by Génération Robots.
Out-of-Stock
This 3 days training with Pepper will allow you to become autonomous in the programming of this robot and in the creation of applications. Please contact us for more information about the price of these trainings.