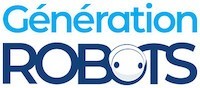 My Cart
0
item(s)
-
€0.00
There are no more items in your cart
List of products by brand Soft Robotics
This circular version of the adaptive mGrip gripper by Soft Robotics is ideal for industrial applications. Easily assembled and rapidly implemented, it is also a great choice for robotics lessons.
Product available for orders
The mGrip by Soft Robotics is a brand-new fast, simple and efficient robotic construction solution. It allows you to design an adaptive gripper capable of picking up objects of any shape, texture and size in just a few minutes.
Product available for orders