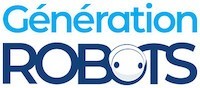 My Cart
0
item(s)
-
€0.00
There are no more items in your cart
A tiny computer like the Intel Edison can do a lot but will soon reach its limits. That's when the Intel Edison modules come handy. The development system for wearable devices that Intel announced in 2014, is not supposed to work by itself. You will be surprised by the amount of modules available for this platform that you can use in order to create complete electronics projects.
In addition to the powerful single-board computer, you will find some modules such as Sparkfun blocks allowing to make the most of all the connection possibilities offered by the Intel® Edison board's 70-pin connector. These blocks are to the Intel Edison board what shields are to other SBC's, you can simply add them on top of another.
Have a look at our range of motors, servomotors, LEDs and sensors compatible with the Intel Edison platform, you will be amazed by what you can do! In this category you will find the Sparkfun blocks and other modules in order to turn your Internet of Things project into reality.
Sorry for the inconvenience.
Search again what you are looking for