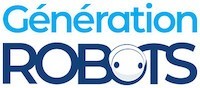 My Cart
0
item(s)
-
€0.00
There are no more items in your cart
FP04-F56/F57/F58/F59 Set for Robotis Premium
Exclusive skin for Bioloid robots to give unique personality to your humanoids. These skins can be painted to distinguish your Bioloid robot.
Skin Set for Bioloid humanoid
This kit contains two skins to improve the design of your Bioloid humanoid robot. Two skins are provided, one for the head and the second for the torso. Each skin can be customized and painted with your own colours.
Content of the Bioloid Skin Set
1 x BIOLOID Skin FP04-F56/F57 (F56/F57 Head skin)
1 x BIOLOID Skin FP04-F58/F59 (F58/F59 Chest skin)
10 x N1 nut (NUT M2)
10 x S1 bolt (PHS M2*6)
5 x S3 bolt (PHS M2*10)
5 x S12 bolt (PHS M2*6 TAP K)
10 x S13 bolt (PHS M2*8 TAP K)
5 x S14 bolt (PHS M2.6*8 TAP K)
5 x S15 bolt (PHS M3*8 TAP K)
Customers who viewed this item also viewed