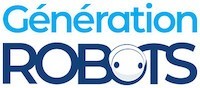 My Cart
0
item(s)
-
€0.00
There are no more items in your cart
Technical specifications
TCS3200 Color Sensor Daughterboard is a complete color detector, including a TAOS TCS3200 RGB sensor chip, white LEDs, collimator lens, and standoffs to set the optimum sensing distance.
The TCS3200 has an array of photodetectors, each with either a red, green, or blue filter, or no filter (clear). The filters of each color are distributed evenly throughout the array to eliminate location bias among the colors. Internal to the device is an oscillator which produces a square-wave output whose frequency is proportional to the intensity of the chosen color.
To know more about the operation and the programming of the color sensor, click on the following link to get access to the PDF documentation of the Parallax color sensor
Compatibility
This sensor is compatible with the Boe-Bot and StingRay robots thanks to the DB-Expander.
NOTE: The DB-Expander is not included with the Color sensor, please make sure you purchase it separately.
Customers who viewed this item also viewed