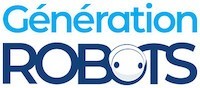 My Cart
0
item(s)
-
€0.00
There are no more items in your cart
4 wheels drive robotic chassis with gripper arm
4 wheels drive aluminum robotic chassis with a gripper arm
DISCONTINUED
The Wild Thumper 4x4 rover is the light version of the Wild Thumper 6x6 outdoor rover. This version of the famous 4x4 outdoor robot has a manipulator arm.
Technical specifications of the 4x4 Wild Thumper outdoor rover
This 4x4 rover from Dagu has the following technical specifications:
The famous "super-twist" suspension system that make the Wild Thumper the more agile outdoor robot.
4 CC motors with brass brushes and 75:1 gearboxes
Large spiked tires larges (120 mm diameter)
Robotic gripper hand with 2 DOF
Ground clearance : 60 mm when lightly loaded
Fully assembled.
Recommended voltage for each motor : 2 to 7,5 V
The suspension can be adjusted to accommodate different loads and conditions. The frame is made of an aluminum plate anodized anti-corrosion 2 mm thick. The holes on the plate have a diameter of 4 mm, spaced 10 mm each. The dimensions of the plate are 120 mm x 227 mm.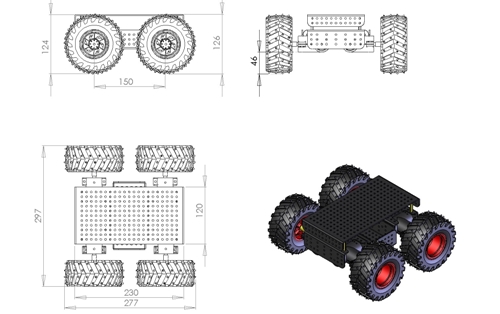 Speed and torque of the motors
A voltage of 7.2 V, the motors with with the 75:1 gearboxes can reach a maximum speed of about 3 km/h, and each motor has a stall torque of approximately 11 kg-cm (150 oz-in). The version presented here therefore favors the torque to speed. These motors have a rotation speed of 160 rpm.
Electronic and control
The kit 4x4 Wild Thumper mobile robot is not supplied with the controller cards. Motor controller card that embeds your localization and avoidance programs, connect the sensors are sold separately on this web site.
Powering the Wild Thumper 4x4 outdoor robot
A compartment in the chassis is designed to contain batteries 7.2 V Sub-C (not included) that are commonly used on radio controlled vehicles. Two batteries of this type can be placed in that compartment.
Videos of the 4x4 Wild Thumper outdoor rover
Customers who viewed this item also viewed