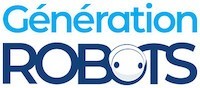 My Cart
0
item(s)
-
€0.00
There are no more items in your cart

Parallax (Futaba) Continuous Rotation Servo
The Parallax Continuous Rotation Servo is ideal for robotics and basic movement projects. It is designed for continuous rotation and is easily interfaced with any Parallax microcontroller such as controllers on
SumoBot
and
Boe-Bot
robots
Including €0.01 for ecotax (not impacted by the discount)
The Parallax (Futaba) Continuous Rotation Servo
The Parallax Continuous Rotation Servo is ideal for robotics and basic movement projects. It is designed for continuous rotation and is easily interfaced with any Parallax microcontroller. These servo are compliant with the Boe-Bot robot or the SumoBot robot.
The Parallax continuous rotation servo relies on pulse width modulation to control the rotation speed and direction of the servo shaft. Before using the servo in a project, it is important to calibrate the center position of the servo in order to define the pulse width value at which the servo holds still
Connectivity
This continuous rotation servo uses a classical 3-pin cable. The 3 colors of the wires are : white (signal), red (power supply) and black (ground).
Technical specifications of this Futaba Continuous Rotation Servo
Bidirectional continuous rotation
0 to 50 RPM, with linear response to PWM for easy ramping
Accepts four mounting screws
Easy to interface with any Parallax microcontroller or PWM-capable device
Very easy to control with PBASIC's or SX/B's PULSOUT commands
Key Specifications
Power requirements: 4 to 6 VDC*
Communication: Pulse-width modulation
Dimensions: 2.2 x 0.8 x 1.6 in (55.8x 19 x 406 mm) excluding servo horn
Operating temp range: +14 to +122 °F (-10 to +50 °C)

Customers who viewed this item also viewed