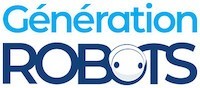 My Cart
0
item(s)
-
€0.00
There are no more items in your cart


Boe Shield for Arduino robot
The Boe Shield Bot robot is a small mobile programmable robot using the Arduino technology. The Boe Shield Bot has been built on the success of the famous
Boe-Bot robot
.
DISCONTINUED
The Boe Shield Bot
The Boe Shield Bot is a programmable mobile robot that uses an Arduino board. The robot is programmable using the Arduino programming environment and provides a breadboard to easily add your electronic components, sensors or your own electronic circuits.

The Arduino technology
Arduino is a range of electronic board with embedded microcontroller and a set of I/O connectors. Arduino is easy to use and is fully open source. Arduino boards are easily programmed using the Arduino programming environment in C, that is easy, light, open source and free!
Arduino is so far the card most popular electronic technology and is widely used worldwide. Join this great community!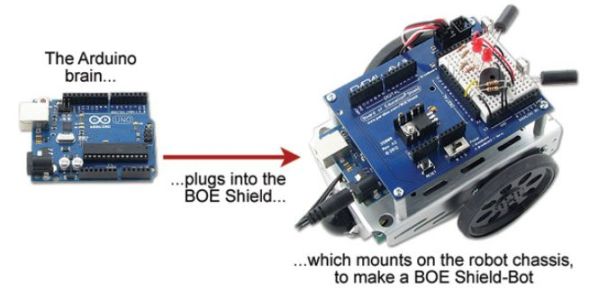 Contains of the Boe Shield Bot kit
This robotics kit contains:
The Board of Education Shield PCB
High-quality aluminum robot chassis, continuous rotation servos, and wheels
All the electronic components and sensors needed for the Robotics activities
All the assembly hardware needed (nuts, screws standoffs)
Parallax Screwdriver
1 AA battery holder
Warning: the Arduino board is not included in this robotic kit !
The Arduino board compatible with this robotic kit are: The Arduino UNO SMD board, The Arduino Mega ADK and the Arduino Duemilanove.
The Board of education Shield
The shield for Arduino (included in the kit) has the following technical specifications:
17 row x 2 column breadboard for convenient circuit-building
Headers for power (Vin, 5 V, 3.3 V) Ground, Digital I/O and Analog In are brought adjacent to the breadboard
Onboard 5 V regulator supplies up to 1 A, great for robotics and animatronics applications
Onboard 3.3 V regulator supplies up to 200 mA for project circuits and accessories, such as XBee modules
4 servo ports with power selection jumper for regulated 5 V or Vin (Arduino's supply voltage)
3-position power switch for power header only or power header + servo ports
RESET button resets the Arduino
Supply indicator LEDs for breadboard and servo power
The following image shows how the Board of Education Shield and the Arduino board are connected:

Learning how to program the Boe Shield Bot for Arduino
A website proposing some examples and tutorials is available at http://learn.parallax.com/ShieldRobot
Technical documentation of the Boe Shield Bot
To download the technical documentation for the Boe Shield Bot in PDF, click on the following image:

Customers who viewed this item also viewed