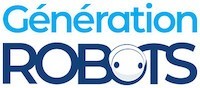 My Cart
0
item(s)
-
€0.00
There are no more items in your cart
RobotC for Arduino - Team License - 6 users
RobotC for Arduino allows programming mobile robots based on Arduino boards. RobotC is one of the most efficient programming software for mobile robots.

RobotC for Arduino
RobotC is a light and efficient programming environment for mobile robotics. As its name suggests, RobotC provides a C-type language for a wide variety of mobile robots. RobotC for Arduino allows programming of mobile robots based on Arduino technology as the Boe-Shield Kit.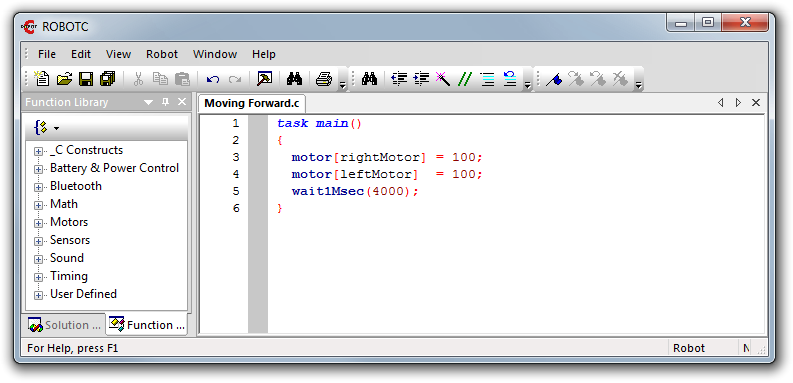 What is RobotC ?
RobotC is a C-type language and a programming environment for robotics that provides advanced programming and real-time debugging features. ROBOTC is a cross-platform solution that allows students to learn the type of c-based programming used in advanced education and professional applications.

RobotC for Arduino is a true C-based source code editor, it is not just a generic text editor. RobotC specifically provides:
Automatically increases / decreases source code indents based on code sytax and structure.
Optional predictive text editor
Hovering over a keyword / variable activates tool tips
Unlimited undos – Not just the last action!
The only interactive debugger available, enabling a dramatic reduction in development time
Continously checks for over 50 different causes of software failures
Supports user-defined breakpoints in source code
Basic and expert modes target both novice and advanced students
Arduino boards that are compatible with RobotC
The Arduino boards that are compatible with RobotC are:
Why using RobotC for Arduino ?
Why using RobotC for Arduino instead of the standard Arduino software?
A high quality debugger
RobotC provides several useful features such as high-performance debugger to debug in real time and step by step. This debugger allows viewing real time values such as sensors or motors values.
Useful functions for robotics
Features offered as standard in RobotC for Arduino are:
Debug : provides a Debug Stream to gather realtime data
Math : a large number of mathematical functions are standard functions, including trigonometry functions that are widely used in robotics.
Miscellaneous : various functions such as memcopy
PC Based Joysticks : control functions from the PC using a USB joystick.
Motors and Servos : to easily control various type of motors and servos (standard, continuous rotation, using a H-bridge...)
Sensors : to read digital and analog data from input ports
Serial Link : to have access to the serial port to download the program that has been created
Task Control : it is possible to run up to 3 additional concurrent tasks in addition to the main task with these functions.
Timing : functions to manage timers
Resources for RobotC for Arduino
To know more about RobotC for Arduino, here are some links:
The Team license of RobotC for Arduino
The proposed license is valid for 6 users. The license is perpetual and not limited in time. The license provides access to all minor releases of version 3 of RobotC for Arduino.
Customers who viewed this item also viewed