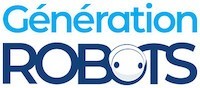 My Cart
0
item(s)
-
€0.00
There are no more items in your cart
Autodesk VEX Educational Robotics Curriculum
Training course on educational robotics made jointly by Vex Robotics and Autodesk. This DVD contains a progressive course and complete for high school level. A reference!
The Vex Robotics Curriculum is a full curriculum that targets students, teachers and enthusiasts. In this course you will learn step by step what a robot is and discover how to structure the process leading to the design and implementation of a robot.
No special skills are required in programming or robotics. The content of the curriculum was made for people with high school level.
In this course you will learn to master the fundamentals of robotics and the engineering design process while using Autodesk Inventor (you will need to download a free version of Autodesk Inventor as Autodesk Inventor is not included) and robotics kit from Vex Robotics (sold separately on this site).
The curriculum is provided in the form of a DVD that installs all the sources of the course on your PC. This curriculum is in English. The course is organized into 17 units and 4 projects.
Curriculum Units:
Unit 1: Introduction to VEX and Robotics
Unit 2: Introduction to Autodesk® Inventor®
Unit 3: Building a Protobot
Unit 4: Microcontroller and Transmitter Overview
Unit 5: Speed, Power, Torque and DC Motors
Unit 6: Gears, Chains and Sprockets
Unit 7: Advanced Gears
Unit 8: Friction and Traction
Unit 9: Drivetrain Design 1
Unit 10: Drivetrain Design 2
Unit 11: Creating a Tank Tread Drive
Unit 12: Object Manipulation
Unit 13: Rotating Joints
Unit 14: Accumulator Design
Unit 15: Linkages
Unit 16: Bumper and Limit Switch
Unit 17: Systems Integration
Each unit is structured to cover the design process from A to Z: Think, Create, Build, Test. References to other disciplines as well as case studies are provided in this curriculum. Finally, information for teachers is included in this course to monitor the progress of students in this curriculum.
Customers who viewed this item also viewed