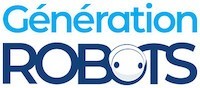 My Cart
0
item(s)
-
€0.00
There are no more items in your cart

Vex Cortex Microcontroller
Cortex is the new generation of microncontroller from Vex Robotics. It replaces the standard microcontroller on the robot Protobot to make it more responsive and powerfull.
Representing the brain of your robot, the Cortex microcontroller integrates natively the wireless technology and allows two-way communication (The VexNet technology is integrated natively in the microcontroller) to upload, run and debbug your programs directly.
Technical specifications of the Cortex microcontroller
8 standard 3-wire Motor Outputs.
2 2-wire Motor Outputs(H-Bridge type).
1 I2C "Smart Sensor" Port
2 UART Serial Ports to plug the VEX LCD Module
8 12-bit Analog Inputs
12 Fast Digial I/O (all can be used as interrupts), frequency 50hz
2 Rx1 & Rx2 to connects to 2 75MHz RF receivers
1 DAC Speaker Output
1 microcontroller STMicroelectronics ARM Cortex-M3 (90 MIPS, 64 KB RAM, 384KB of flash memory for the programs)

Programming Cortex using RobotC
The microcontroller Vex Cortex is programmable using RobotC.
Warning: For the moment, the only version of ROBOTC for Cortex & PIC approved for use with the Cortex is 2.20.1 BETA. Using previous versions may permanently damage the Cortex Microcontroller.
Customers who viewed this item also viewed