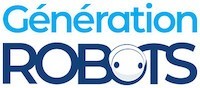 My Cart
0
item(s)
-
€0.00
There are no more items in your cart
AR.Drone 2.0 - Yellow Hull
The new Generation is here ! Parrot AR.Drone 2.0 with Yellow hull. DISCONTINUED ARTICLE.
the Parrot AR.Drone 2.0 UAV is the latest evolutions of the well known personal UAV that can be controller with a smartphone or a tablet over Wifi. After having made personal UAVs popular and affordable for individuals, Parrot, the French company improved its concept and the technologies that are embedded on the AR.Drone for more sensations.
Compared to the previous generation, the AR.Drone 2.0 UAV brings the following features:
HD camera, 720p, 30 frame per second
92° wide angle lense
On-the-Fly video recording on your device or USB storage
Direct upload to Youtube and Picasa
3 exclusive pilot modes: Absolute Control, Assisted and Acrobatic
The Smartphone or tablet control is always so intuitive (Iphone, Ipod Touch, Ipad, Android, Nokia, Samsung,...) and the AR.Drone is very easy to use for beginners and advanced users, pilots from all levels will find a way to improve their skills and make acrobatic moves.
the AR.Freeflight 2.0 application, the main software used to control the AR.Drone also improved a lot in terms of compatibility, performance and offers the ability to have absolute control on your UAV, but also to save your best sequences as HD pictures or videos and to share them directely with other users over the world.
Discover the AR.Drone 2.0 in Videos:
Technical features of the Parrot AR.Drone 2.0 UAV
The technical features of the AR.Drone 2.0 are as follows :
Robust Structure: made to last
Foam to isolate the inertial center from the engines' vibrations
Expanded Polypropylene (EPP) hulls
Carbon fibre tubes : Total weight 380g with outdoor hull, 420g with indoor hull
High grade 30% fibre charged nylon plastic parts
Liquid Repellent Nano-Coating on ultrasound sensors
Fully reparable: All parts and instructions for repairing available on the internet
Embedded Electronics: cutting edge technology for great sensations !
ARM Cortex A8 32 bits 1 GHz processor with TMS320DMC64x 800 MHz video DSP
1Go DDR2 RAM at 200 MHz
Wi-Fi™ b/g/n
3-axis accelerometer with an accuracy of +/- 50 mg
3-axis gyroscope with an accuracy of 2 000°/second
Pressure sensor with an accuracy of +/- 10 Pa (80 cm / 2,6 feet at the sea level)
Vertical 60fps QVGA Camera for ground speed measurement
3-axis magnetometer with an accuracy of 6°
ultrasounds sensor for ground proximity detection
Linux 2.6.32
High speed USB for extensions
Power supply and Motors: higher, faster, be the best !
3 elements 1.000 mA/H LiPo rechargeable battery
Specific high propelled drag for great maneuverability
8 MIPS AVR CPU per motor controller
4 brushless inrunner motors. 14.5 watt and 28 500 rpm when hovering
Self-lubrificating bronze bearings
Tempered steel propeller shafts
Low noise Nylatron gears for 8.625 propeller reductor
Micro ball bearing
Rare earth magnets
Emergency stop controlled by software
Fully reprogrammable motor controller
Water resistant motor's electronic controller

Customers who viewed this item also viewed