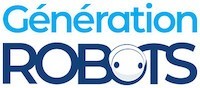 My Cart
0
item(s)
-
€0.00
There are no more items in your cart
ROBOTC FOR Cortex VEX - Single user license
This RobotC licence allows you to program both the
Cortex
and the IFI Vex microcontroller from VEX Robotics.
RobotC is a programming language in C for Vex Robotics Protobot. It allows you to design, test and debug programs for your VEX robots. The C language proposed by RobotC is a compiled language robust and very fast (one of the fastest). The programming environment allows professional RobotC easily design code but also to debug with the real time debugger.
The RobotC license for IFI Vex allows only to program the old version of the microcontroller from Vex named IFI VEX. This new license allows to program the new version of the microcontroller named Cortex but also the old one ! Cortex is more powerfull then the previous version and has a built-in wireless feature.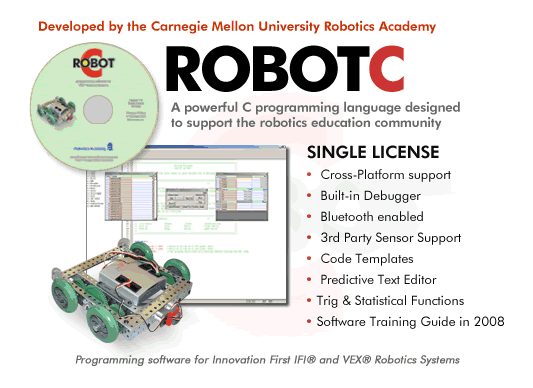 Installing and configuring RobotC for IFI Vex Robotics
Before using RobotC for Cortex from Vex Robotics, you must perform certain steps like updating the firmware of the robot (the firmware is the operating system of the robot). This is very straightforward process. You can see a demo by clicking on the following image, to launch the video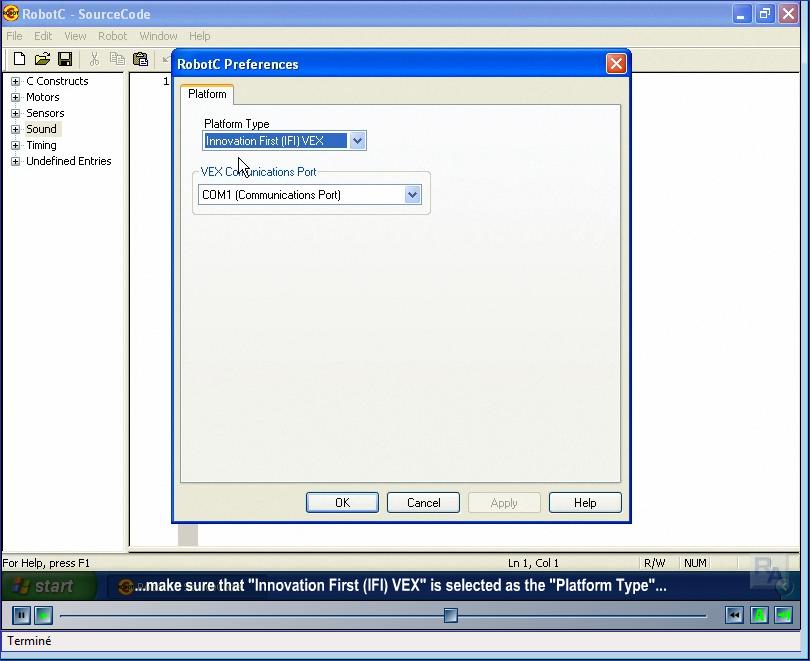 Further simple steps are needed if you use some accessories such as the wireless communication system VexNet. To know all the configuration options, refer to the RobotC support page for Vex Robotics
Technical specifications
True C-based source code editor – not just a generic text editor
Automatically increases / decreases source code indents based on code sytax and structure.
Optional predictive text editor
Hovering over a keyword / variable activates tool tips
Unlimited undos – Not just the last action!
The only interactive debugger available, enabling a dramatic reduction in development time
Continously checks for over 50 different causes of software failures
Supports user-defined breakpoints in source code
Basic and expert modes target both novice and advanced students
Customers who viewed this item also viewed