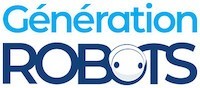 My Cart
0
item(s)
-
€0.00
There are no more items in your cart
Position Controller Kit
This position controller kit with plastic encoder allows measuring the displacement of each wheel of your mobile robots with this kit.
Position controller kit for mobile robot
This kit is composed of a plastic encoder which is fixed on the wheel and a measuring sensor which is fixed on the non-movable axis of the wheel. The plastic encoder rotates at the same speed as the wheel passes in front of the sensor which can precisely measure movement of each wheel (quantity and speed). The kit has a resolution of 36 positions per rotation.
The Position Controller calculates and reports position and average speed data on command. This leaves the main processor free to handle more important tasks like reading GPS coordinates, processing sensor information, and maneuvering complex environments.
Technical compatibility of the Position Controller
The Position Controller is compatible with any microcontroller that uses a single-wire half-duplex asynchronous serial communication (UART) bus. Up to four Position Controller devices can be controlled on the same bus to minimize I/O requirements.
Technical specifications of the Position controller kit for mobile robots
The technical specifications of the Position Controller kit for mobile robots are:
Power requirements: 5 VDC
Communication: Single-wire TTL-level UART @19.2 kbits/sec
Dimensions: 2.0 x 1.05 x .49 in (50.8 x 26.67 x 12.45 mm)
Operating temp range: -67 to +257 °F (-55 to +125 °C

Technical documentation of the Position controller kit for mobile robots
Click on following link to download source code and technical documentation:
Open Source Hardware
This Position Controller Kit for mobile robots is open source. Click on the following links to download all the technical documentation of this kit.

Customers who viewed this item also viewed