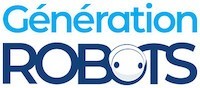 My Cart
0
item(s)
-
€0.00
There are no more items in your cart
AR.Drone 2.0 Replacement Navigation Board
Spare Navigation board for your AR.Drone personal UAV

The Parrot Navigation Board For AR.Drone 2.0
This navigation board is the one that is included in the standard AR.Drone 2 personal UAV.
The role of the navigation board is to ensure the stability and control of the flight. It automatically calculates the altitude of the UAV and its behavior in the air.
Technical specifications of the navigation board fro AR.Drone 2.0
The navigation board is equipped with a microcontroller and a number of sensors to ensure the stability of the flight of the AR.Drone 2.0.
An ultrasonic sensors to measure altitude changes (up to 6 meters from the ground)
An Altimeter sensor (barometer) for improved accuracy of altitude corrections
A 3-axis digital accelerometer to monitor positional movements
A 2-axis gyroscope and a precision piezoelectric gyroscope for Pitch, Roll and YAW measurements
A 3-axis magnetometer to control orientation of the UAV
These sensors compose the overall feedback from the AR.Drone 2.0. The fusion of these data provides the Euler angles of the AR.Drone. Euler angles are used for stabilization.
The navigation board software may be updated when you update the AR.Drone software using the AR.Update application.
Content of the spare kit
This kit includes one navigation board for a AR.Drone 2 personal UAV and four screws.
How to replace the navigation board of the AR.Drone 2.0
The following video describes how to replace the navigation board of an AR.Drone 2.0:
Customers who viewed this item also viewed