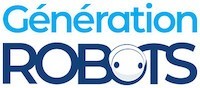 My Cart
0
item(s)
-
€0.00
There are no more items in your cart
Board of Education Shield for Arduino
Arduino Shield for Arduino board with an embeded beadboard (solderless) for all your robotics prototypes. This shield is used in the
Boe Shield Kit
.
The Board of Education Shield for Arduino
This board is an Arduino Shield, that's to say an extension board that can accept an Arduino board. This shield has a solderless breadboard that allows you to interface your Arduino board with your own solderless electronics circuits. Your circuits may take the form of your robot sensors (contact sensors, photoresistors, Infrared light...). This shield for Arduino also has servo ports. On the one hand an Arduino board, on the other sensors and actuators, finally, you have understood this shield is the board that you need to create the heart of your robot. This Arduino Shield is included in the Boe Shield Robotics Kit.
Arduino boards that are compatibles
This Board of Education Shield for Arduino is compatible with Arduino Uno, Arduino Duemilanove and Arduino Mega.
Technical specifications of the Board of Education Shield for Arduino
The technical specifications of this Arduino shield with an embedded breadboard are as follows:
17 row x 2 column breadboard for convenient circuit-building
Headers for power (Vin, 5 V, 3.3 V) Ground, Digital I/O and Analog In are brought adjacent to the breadboard
Onboard 5 V regulator supplies up to 1 A, great for robotics and animatronics applications
Onboard 3.3 V regulator supplies up to 200 mA for project circuits and accessories, such as XBee modules
4 servo ports with power selection jumper for regulated 5 V or Vin (Arduino's supply voltage)
3-position power switch for power header only or power header + servo ports
RESET button resets the Arduino
Supply indicator LEDs for breadboard and servo power
Power requirements: 7 to 12 VDC, through Arduino VIN
Communication: Serial over USB through Arduino
Dimensions: 4 x 3.05 in (10.2 x 7.75 cm)
Operating temp range: 32 to 158 °F (0 to 70 °C)
More technical information is available on the Parallax website.
To download the technical documentation of the Board of Education Shield for Arduino, click on the following image:

Customers who viewed this item also viewed