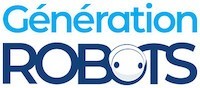 My Cart
0
item(s)
-
€0.00
There are no more items in your cart
Parallax SumoBot
Autonomous robot ready for competition!
If you want to program a personal robot to compete in Sumo, this robotic kit is for you.
Program the robot so that it locates the
ringside
, detects and pushes its opponent.
Leveraging the quality of the Parallax products, this sumo robot will give you full satisfaction. DISCONTINUED
Like its big brother Boe-Bot, SumoBot is a robot created by Parallax a well known company for its electronic components. This robot is designed to compete in sumo robotics. Design your robot and train it to be the best in its class Sumo. Based on the expertise of Parallax, this robot is using aluminum parts and is based on the microcontroller BASIC STAMP 2, the bestseller from Parallax.
Infrared detectors placed on the robot allow the detection of both the edges of the ringside and the opponent. Your challenge is to make the best program to defeat this opponent.
The Parallax Sumobot robotic kit includes
Documentation
CD containing the programming environment and a lot of other training documents in PDF format.
The aluminum chassis
Actuators
Wheels
Electronics components
Reinforcement elements (screws and nuts)
Screwdriver
A serial cable
The SumoBot manual
The book for the robot SumoBot included in this robotic kit, proposes a progressive and didactic presentation on several topics like moving the robot autonomously, detect and avoid competitors, as well as the edges of the ring using multiple sensors and finally, navigation and search of opponents. As always with Parallax, included books are richly illustrated and are accessible to everyone while being very complete. A great success!


See an example of SumoBot competition:


This kit requires batteries not included.
Download the PDF documentation of the SumoBot robot:
PDF documentation of the SumoBot robot

Customers who viewed this item also viewed