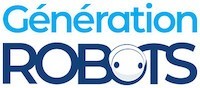 My Cart
0
item(s)
-
€0.00
There are no more items in your cart
I2C touch robotic sensor compliant with POB robots
I2C Contact robotic sensor compliant with robots from Pob Technology such as Pob Follower or Pob Avoider.
The contact sensor (or touch sensor) is a switch with a long lever. Positioned on the sides of the POB robot, it can detect collisions (and any other contact less violent).
This sensor can also be used as simple switch.
Technical specifications:
5V
Provides ready to use with connector
Use one or two digital inputs as required.
Customers who viewed this item also viewed