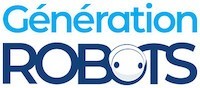 My Cart
0
item(s)
-
€0.00
There are no more items in your cart
Teaching ROBOTC for IFI VEX (Classroom License)
Rich educational tool to teach robot programming with RobotC and Vex Robotics
Learn to program and teach RobotC for Vex Robotics robots using this multimedia curriculum provided in the form of a CD. This tool is designed to teach young people with no programming skills to program Vex Robotics robots using RobotC, the best language for such robots.
Content of the curriculum RobotC for Vex Robotics
This CD features 40 short videos for training and exercises supplemented by a guide of 275 pages you can print.
This training CD includes 5 major chapters:
Installation: students build their robot, learn what a firmware is, download it and create their first simple program
Fundamentals: students learn their role as a programmer, how the robot feels the outside world and the syntax of RobotC.
Movements: students program their robot so that it solves the challenge of the maze. They learn to control the direction and speed of the autonomous robot.
Radio Control: students learn how to incorporate feedback (feedback loop) using a radio frequency transmitter and enabling them to realize the challenge of the minefield.
Feeling: Students learn how the robot uses its sensors to obtain information about its environment and how it uses them to make a representation of this environment. This information is used to improve the robot's behavior in the challenges of the maze and minefield.
Click on the following image to know more: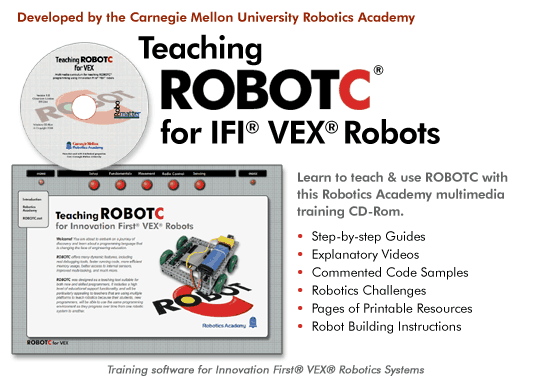 The license is a classroom license
To complete the exercises and examples presented on the CD, you should have at least (not included with the CD) for 2 or 3 students:
A License of RobotC for Vex Robotics
A Vex Robotics Protobot Robot
A pair of optical encoders for measuring rotation of the wheels
An ultrasonic obstacle sensor
This teaching aid has been directed by the Robotics Academy at Carnegie Mellon University
Customers who viewed this item also viewed