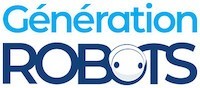 My Cart
0
item(s)
-
€0.00
There are no more items in your cart
NXT Video Trainer 2.0 Classroom License
Multimedia curriculum designed to teach behavior-based programming using NXT-G, the programming software included in the Lego Mindstorms NXT kit
Discover how to program the Lego Mindstorms NXT robot using NXT-G with this DVD containing an interactive training material.
Get started with NXT-G with step by step guided instructions . This training material includes videos, piece of codes, PDF documentation, lessons, questions and challenges to acheive...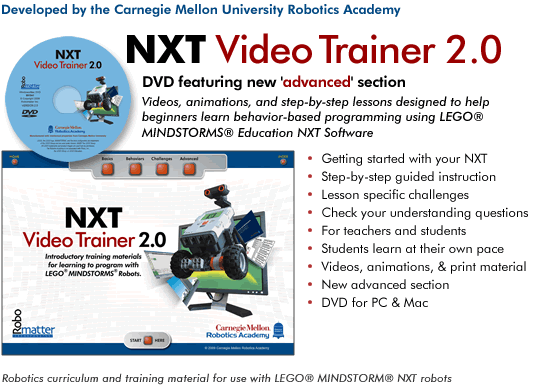 Step by Step instructions
The following topics are presented in this curriculum:
Getting Started – Getting started with your NXT, including batteries and firmware.
Behaviors – Step-by-step guided instruction mixed with student exploration and reflective analysis of the robot's behavior. Learn robot behaviors in an intuitive, logical sequence starting with simple movement, adding sensor guidance, and finally advanced decision-making capability. A lesson-specific challenge at the end of each section allows you to truly test your understanding and programming ability.
Problem Solving Challenge – Learn an iterative approach to problem-solving and programming as you tackle a multi-step obstacle course (with a little help, of course).
Basics – Primers and reference for reinforcing and enriching your understanding of the NXT and robotics.
Additional Challenges – Additional challenges for use as practice or classroom activities. Supplemental challenges are aligned with learner progression through the main activity sequence, so there will always be a suitable challenge available.
Advanced Programming – New in 2.0! Advanced programming section covers Data hubs, Data types, Variables, Calculations, and Logic
You must get a Lego Mindstorms NXT kit (not included) to acheive the challenges proposed into this DVD
System requirements
Windows® XP SP3 or Windows® Vista SP1
Mac® OSX 10.5 or higher.
Internet Explorer 7.0 or later / Mozilla Firefox® 3.0 or later / Safari 3.2 or later.
Adobe Flash Player 10 or later (included).
Adobe Reader 7 or later (PC version 9 included).


Developed at the Robotics Academy
Carnegie Mellon University
Ten 40th St., Pittsburgh, PA 15210
www.rec.ri.cmu.edu/education
412 963.7310
Customers who viewed this item also viewed