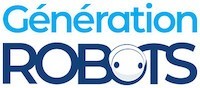 My Cart
0
item(s)
-
€0.00
There are no more items in your cart
Deep Space Terraformers - Camp on a disk
This Camp-on-a-Disk CD-Rom leads young campers to the edge of the universe in a robotic adventure that glimpses a future when humankind will transform distant planets into livable habitats.
In this NXT-based Camp-on-a-Disk adventure, campers are first tasked to learn basics in the training areas on the Space Shuttle Entropy. Next, campers visit a series of moons, where they hone their terraforming skills. The adventure culminates on the planet Pantheon. Robo campers help transform Pantheon into an environment where humanoids can live and thrive. STEM education is a fundamental part of the Terraformers experience, expounding science, technology, engineering and math concepts in an engaging 'hands-on minds-on' environment.

Using LEGO MINDSTORMS Education NXT 1.1 or 2.0 software (NXT-G) and the Lego Mindstorms NXT kit, guided navigation leads campers forward along this imaginative mission into space, The CD-Rom also includes: graphics files for creating themed paper props, a guide for camp facilitators, training videos, robot building guides, editable registration forms, gameboard instructions and more. Resource Kit 9648 may be used to augment the activities.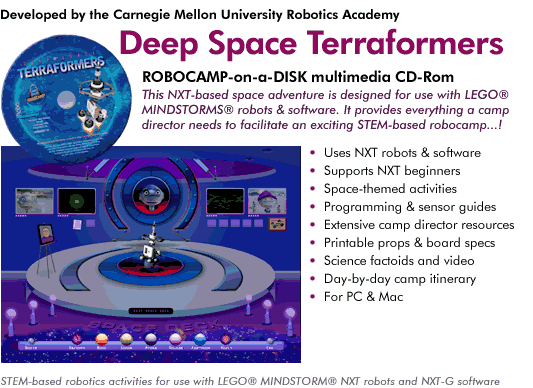 Product features...
NXT Intro material
Programming
Engineering process
Project planning
NXT hardware
Motor block lessons
Move block lessons
Sensor programming
Beginner Challenges
Camp Directors material Robocamp-on-a-Disk Guide Pantheon mission profiles Camper application Liability release Medical form Camp announcement Gameboard specifications Quick guide to running camp Materials list Graduation notice Project management handouts Awards handouts Website links
To get an example of the content of the DVD, click on the following image :
STEM related learning.
SCIENCE
Science behind Terraforming
Pop-up science facts
TECHNOLOGY
Programming
Robot design & building
NXT hardware
ENGINEERING
Engineering process
Project planning
NXT hardware
MATH
Challenges
Threshold
Mission planning
Camp director guide
Camp Directors Guide – Includes extensive Camp Guide that covers everything from planning to graduation, with recommended day by day activities. Prior experience teaching robotics or programming not required or assumed.
Robocamp Requirements –One LEGO MINDSTORMS NXT Kit and one computer for every group of 2-4 students. Each computer should have access to Terrafomers content and LEGO MIndstorms Education NXT 2.0 software. Resource kit recommended to facilitate prop making and board embellishment. Competition gameboard and 'Moon' mission boards should be built prior to camp. Specifications are included on the CD.
Customers who viewed this item also viewed