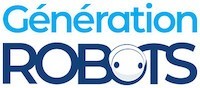 My Cart
0
item(s)
-
€0.00
There are no more items in your cart
Dynamixel EX-106+ Actuator
The EX-106 + is the actuator by far the most powerful of the Dynamixel range, particularly regarding the torque.
The Dynamixel servomotors

All-around assembling structure: you can make robots of various forms as using different option frames.
Powerful feedback : It can read current position of Dynamixel or speed as well as various information such as internal temperature, supply voltage, target position.
Simple connection structure: Wiring is simple because it is linked by Daisy Chain.
Alarm function: When internal temperature, torque, supply voltage etc. escaped appointed range, it gives feedback about that situation. Also in such emergency situation, it flash LED or be Torque off.
Compliance configuration: It can configure the compliance to control the position.
Torque set up : Torque can be set up by 1023 steps from maximum Torque to free run state.
Low-electric current/high voltagedrive : Its efficiency is high because it runs by high voltage and it improves stability of robot system that is formed by Dynamixel because current consumption is low.
Status LED : It has LED that can check state of the Dynamixel.
Drive by network: Dynamixels have unique ID and are controlled by Packet communication on a bus. It supports network of TTL, RS 485, and CAN etc. according to model.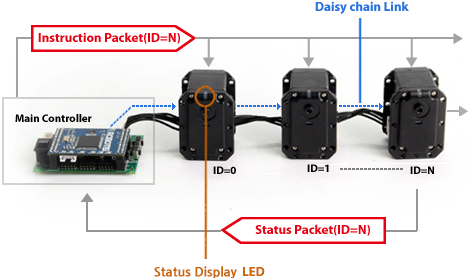 This video illustrates the capabilities and the existing application for Dynamixel servomotors:
Programming the Dynamixel servomotors
The servomotors have to be linked to a main controller (CM-700, CM-5, CM-510 or CM-530) to be commanded. The progams are made with RoboPlus, which allow really easy programmation, without much previous knowledge.
The most recent main controllers support embedded C and there is a SDK for you to developp your own applications.
The Dynamixel EX-106+ actuator
The actuator EX-106 + is the actuator need for your robots where some power is needed, more than speed. The EX-106 + distinguishes itself by a high torque capacity compared to other actuators of the Dynamixel range. The MX-106R and MX-106T are the adaptations of the EX-106+ servomotor for the MX range.
Technical specifications of the Dynamixel EX-106+ actuator
Weight : 154g
Dimension : 40.2mm x 65.1mm x 46mm
Resolution : 0.06°
Gear Reduction Ratio : 184:1
Stall Torque : 10.91N.m (at 18.5V 7A)
No load speed : 91rpm (at 18.5V)
Running Degree
Running Temperature : -5℃ ~ +80℃
Voltage : 12 ~ 18.5V (Recommended Voltage 14.8V)
Command Signal : Digital Packet
Protocol Type : RS485 Asynchronous Serial Communication (8bit,1stop, No Parity)
Link (Physical) : RS485 Multi Drop Bus
ID : 254 ID (0~253)
Communication Speed : 7343bps ~ 1 Mbps
Feedback : Position, Temperature, Load, Input Voltage, etc.
Material : Full Metal Gear, Aluminium Front Case, Engineering Plastic Body
Standby current : 55 mA
Technical documentation of the Dynamixel EX-106+ actuator
Comparing the various Dynamixel actuators
This document offers an overview on the characteristics of all the Dynamixel servomotors.
The chart below compare the Dynamixel actuators on their performance. Servomotors are differentiated by communication type (and the MX range proposes both protocols).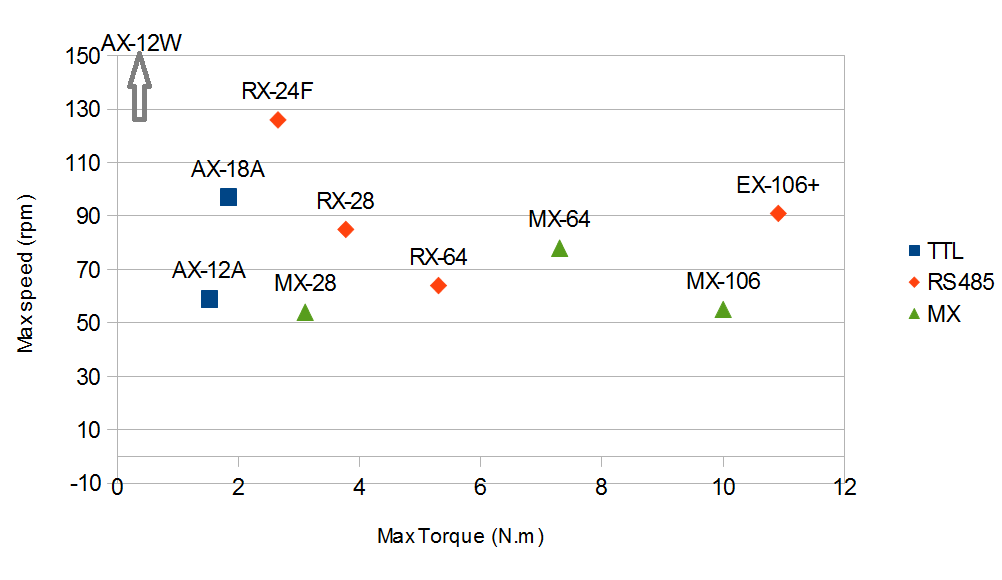 Customers who viewed this item also viewed