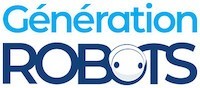 My Cart
0
item(s)
-
€0.00
There are no more items in your cart

Motor / Stepper / Servo motor control shield for Arduino
Fully-featured motor shield able to power many motor types (DC, Stepper and standard servo).
Motor / Stepper / Servo Shield for Arduino: One driver to rule them all !
According to your projects, you might want to use different kind of motors. This shield is made for you as it allows driving small CC motors, stepper motors and standard RC servos.
This shield was tested with several official Arduino boards (Mega 1280 and 2560, Duemilanove, Uno,...) and is compatible with most of the variants / clones of Arduino boards. It is well documented and you can download ready to use software libraries.
Technical specifications for the Motor / Stepper / Servo motor control shield for Arduino
The technical specifications for this shield are as follows:
2 connections for 5V 'Hobby' servos.
4 H-Bridges allowing to drive DC motors from 4.5 to 25V under 0.6A (1.2A peak).
Up to 4 bi-directional DC motors with individual 8-bit speed selection (0.5% resolution)
Up to 2 stepper motors (unipolar or bipolar) with single coil, double coil or interleaved stepping.
Pull down resistors keep motors disabled during power up.
Handy power block connector (for 18-26 AWG cables)
2 Arduino reset buttons
2-pin terminal block if you want to keep the logic / motor supplies separate
Compatibility tested with many Arduino boards
A lot of libraries and documentation
This kit comes with all parts necessary, unassembled. Motors and Arduino board not included.
Downloads and resources for the Motor / Stepper / Servo Shield for Arduino
Customers who viewed this item also viewed