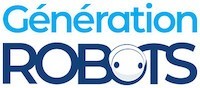 My Cart
0
item(s)
-
€0.00
There are no more items in your cart
Aluminum robotic gripper with 2 servos
Robotic gripper with servos for your mobile autonomous robots. DISCONTINUED
The robotic gripper from Dagu is made from aluminum and fits on most of your autonomous robots. In particular, you can adjust the robotic gripper on Wild Thumper mobile platforms fromDagu.
Specifications of the robotic gripper for mobile robots from Dagu
The robot gripper comes fully assembled
Made from 3mm thick aluminum
Supplied with two servos
Opens in excess of 50mm (5,3 cm)
Robot gripper Weight : 0.22 kg

Gripper length: 21cm
The Dagu Aluminum robotic Gripper is made from 3mm thick aluminum and comes with 2 servos.


Technical overview servos of the robotic gripper for mobile robots from Dagu:
Standard Servo (for changing the inclination of the gripper)
S06NF STD Servo Motor with metal gears

Speed: 0.18 sec/60º @ 6.0V ; 0.16 sec/60º @ 7.2V

Torque force: 13 Kg/cm @ 6.0V ; 13.5 Kg/cm @ 7.2V

Weight : 56g

Size:40.4mm x 19.8mm x 37.6mm

Rotationtype: 180°

Mini Servo (for opening and closing the gripper)
S05NF STD Servo motor with metal gears

Speed: 0.20 sec/60º @ 4.8V ; 0.18 sec/60º @ 6.0V

Torque force: 2.8 Kg/cm @ 4.8V ; 3.2 Kg/cm @ 6.0V

Weight : 20g

Size: 28.8 x 13.8 x 30.2 mm

Rotationtype: 180°
Customers who viewed this item also viewed