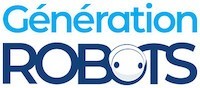 My Cart
0
item(s)
-
€0.00
There are no more items in your cart
AbsoluteIMU-C compass sensor for Lego NXT
You robot finds its way easier using this accurate and compact compass sensor
The AbsoluteIMU-C sensor for Lego Mindstorms NXT
This sensor allows measuring the tilt of your robot on three axis.
The AbsoluteIMU-C compass sensor senses the magnetic north on thress axis and allows you tracking the position of your robot in the space with a great accuracy. So you'll be able to guide your robot but also to be aware of its inclination. It is also very compact and will fit with most of your NXT contraptions.
Technical specifications of the AbsoluteIMU-C for Lego Mindstorms NXT
returns the tilt for 3 axis.
can be calibrated to take in account your environment magnetic characteristics.
Programming the AbsoluteIMU-C
The AbsoluteIMU-C sensor for Lego Mindstorms NXT robot can be programmed using NXT-G. Click on the image below to download the NXT-G bloc for the sensor:

In order to download the AbsoluteIMU user guide for NXT, clock on the following image:

Customers who viewed this item also viewed