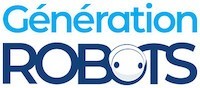 My Cart
0
item(s)
-
€0.00
There are no more items in your cart
NXT Compatible Linear Actuator (100mm)
Improve the performance of your robotic creations using this specific engine to deliver a linear motion (contrary to standard servos Lego Mindstorms issuing a rotation).
This linear motor connects to a standard motor port of the Lego Mindstorms NXT Intelligent Brick. It can deliver a force of 25N maximum.
The model presented here is making a movement of 10 cm.
The linear motor is compliant with the following languages : NXT-G, RobotC, NXC
This linear motor is a creation of society Firgelli.
The following video shows an example of implementation of the linear motor:
Programming the linear motor for Lego Mindstorms NXT
NXT-G
Download the NXT-G block to use the linear motor:


RobotC
An open source library is available to incorporate the linear motor in your codes RobotC:



Customers who viewed this item also viewed