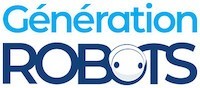 My Cart
0
item(s)
-
€0.00
There are no more items in your cart
Port Splitter for Digital Sensors for NXT / EV3
MindSensors |
A-000000-00172
This Port Splitter allows you to split a NXT port and connect upto 3 I2C compliant sensors or
Lego servo motors
to single NXT Port.
Including €0.01 for ecotax
This ports splitter specifically designed for Lego Mindstorms NXT connects to the NXT sensor ports. It can connect up to three digital sensors or actuators on a single port on the Lego Mindstorms NXT Intelligent Brick.
The connected sensors must be I2C compliant sensors with their own I2C address. Works with EV3, but only with I2C-sensors.
This port splitter can be placed in cascade with other port splitter thus multiplying the complexity and performance of your robot. This port splitter supports language NXT-G (there is no particular block to be used), NBC and RobotC.
Supported Sensors and Devices by the NXT port splitter
This port splitter only supports I2C compatible digital sensors, with their own I2C address, it does not support analog sensors. The sensors that are supported (not exhaustive):
Current Consumption of your sensors
Under normal conditions, maximum current consumption capacity of NXT I2C bus is about 100 milli-amps. While attaching multiple sensors, ensure that total current drawn by your sensors is within the limits. Also to limit current consumption, use the shortest possible length of cables between the sensor and SPLIT-Nx-v2.
Using NXT port splitter with NXT Motors
Upto three NXT servomotors can be attached to SPLIT-Nx-v2. Turning motor port ON through the NXT program will turn all the attached motors ON at once. This is useful if you need to run all motors at once, however independent control of each attached motor is not possible and encoder values of the motors can not be used. i.e. rotation control feature of motor blocks can not be used. Also note that the power supplied to the motors will be limited by the power coming from the NXT brick. The encoder reading on NXT will be Logical AND operation of encoder values of all attached motors. For simple programs such value is not of much use.
Customers who viewed this item also viewed