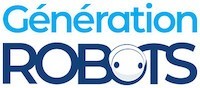 My Cart
0
item(s)
-
€0.00
There are no more items in your cart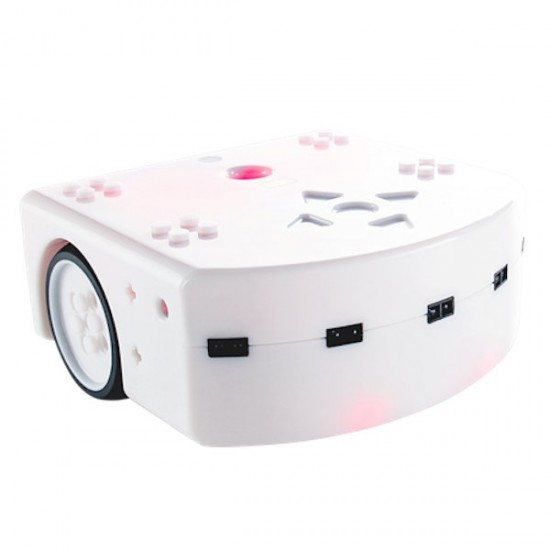 Mobile robot Thymio II
The mobile robot Thymio II is a small interactive wheel base for education at an affordable price.
Including €0.10 for ecotax
Introducing the mobile robot Thymio II
The mobile robot Thymio II has been developed in collaboration by the Swiss Federal Institute of Technology in Lausanne (EPFL) and the Cantonal Art School of Lausanne (écal). Their aim is to provide an educational mobile robot at a low price.
The mobile robot Thymio II is totally open-source, at hardware and software levels.
The mobile robot Thymio II is easy to manipulate, thanks to its small size (110x110x50 mm) and weight. Its beautiful white body makes it very robust and it is very attractive thanks to its capacitive buttons and colored leds.
The mobile robot Thymio II contains many sensors (microphone, infrared receiver, temperature, proximity, 3 axis accelerometer, ground sensors for line following), actuators (motors, speakers, LEDs) and connectivity (USB, memory card).
But the mobile robot Thymio II knows how to offer opportunities to those who want to increase the capabilities of this robot. You can add a pen in the robot to draw with it and you have access to Lego-compatible attachment points: the only limit is your imagination! The mobile robot Thymio II's designers don't lack of it, as you can see on this page or in this presentation movie:
Thymio is programmed with the Thymio Suite software, which replaces the Aseba software suite (Aseba being also the name of the text programming language). Thymio Suite is compatible with Windows, Mac, Linux and can be used on iPads.
To use Thymio Suite from a computer
Go to the
Thymio Suite software download page
. Choose the version that corresponds to your system (Windows, Mac or Linux) and launch the download. Then install the software on your computer and run it! You can then select the programming language you wish to use:
VPL (Visual Programming Language), an event-driven programming language, based on pictogram associations. Very easy to learn, perfect for young children who are just discovering programming.
Scratch 3, a visual programming language based on blocks of instructions that must be logically nested to create a more or less complex program.
Blockly, use math, logic, loops, variables and discover more programming concepts!
Aseba, a text language developed for Thymio that allows, among other things, to collect data from sensors and actuators and to create much more complex programs.
To use Thymio Suite from an iPad
Programming the Thymio robot with a tablet (only iPad for the moment), requires a relay computer, which runs Thymio Suite, and on which the Thymios will be connected, thanks to their USB
Wireless dongles
connected to a USB hub. You will also need to install the
Thymio Suite Mobile
application on each iPad. The diagram below shows the configuration required to run Thymio Suite on a tablet.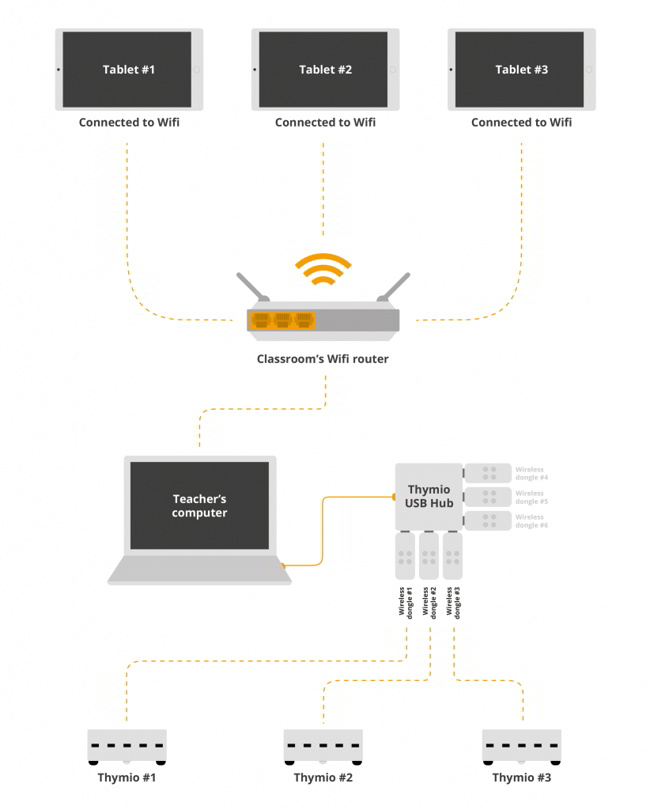 To use Thymio with an iPad: if you already have a non-wireless Thymio robot, you need to add a DIY Wireless kit for Thymio.
Thymio robot firmware update
To update the firmware of the Thymio robot, and thus access the latest features, follow these steps:
Connect your robot to your computer with the USB cable.
Select a programming language in the Thymio Suite software,
Right-click on the robot you want to update
Lastly, click Upgrade Firmware.
Technical details of the mobile robot Thymio
Dimensions: 11 cm x 11.2 cm x 5.3 cm (base box: 13.5 cm x 15cm x 7.5 cm)
Weight: 270 grams
Li-Po Battery: 3.7 V, 1,500 mAh, rechargeable via a MicroUSB port
Autonomy: More than 2 hours (much more generally since it recharges as soon as it is connected to a computer during programming)
Max speed: 14 cm/s
The Thymio Suite software suite can be installed on Linux, Mac OS and Windows
9 Infrared sensors (range approx. 10 cm)
5 Touch Buttons (capacitive technology)
1 Three-axis accelerometer
1 Thermometer
1 microphone
1 Infrared sensor (receiver for remote control)
39 LEDs
2 Wheels-related DC motors
1 speaker
Resources of the mobile robot Thymio II
Data sheet
Age group

6-8 years
Customers who viewed this item also viewed