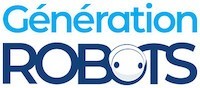 My Cart
0
item(s)
-
€0.00
There are no more items in your cart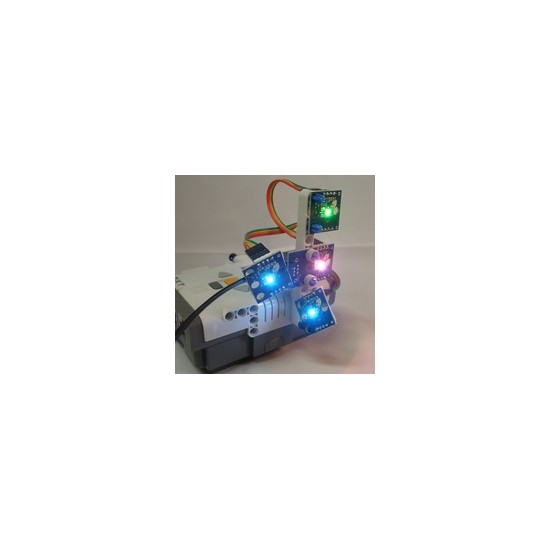 dLight: RGB LED set for Lego Mindstorms NXT
Bright RGB LED for Lego Mindstorms NXT. This set contains 4 programmable RGB led.

dLight is a programmable color LED for Lego Mindstorms NXT
Dlight is a programmable circuit that plugs into your Lego Mindstorms NXT robot and emits light color set. The color emitted by the dLight depends on your programming. 16 million colors are available. An optional blinking mode is available with the dLight. With dLight your Lego Mindstorms NXT robot will be able to provide information based on its condition and / or the progress of the program.
Content of the dLight set
The dLight set contains:
1 dLight Adapter (circuit with an RGB LED and a NXT connector)
3 dLight Satellite LED (circuit with an RGB LED and without NXT connector)
1 NXT cable
3 dLight cables to connect dLight satellites to the dLight Adapter (using DaisyChain)
dLight connection using DaisyChain
The dLight offers a connection mode called DaisyChain in which several dLight can be interconnected so that all the dLight are connected to only one NXT port. In this mode, you can program Dlight individually or as a group. The following image shows the Dlight Adapter (right) connected to a satellite Dlight (left).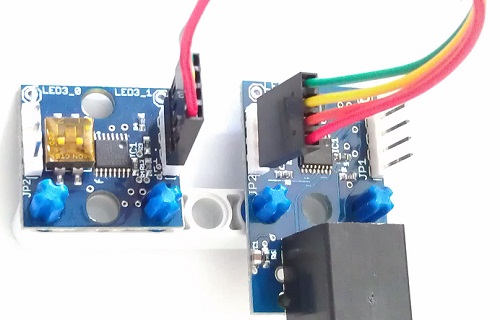 The following video shows a laser gun using the dLight:
Customers who viewed this item also viewed