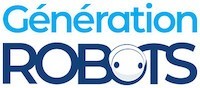 My Cart
0
item(s)
-
€0.00
There are no more items in your cart
Scribbler 2 autonomous Robot
The Scribbler 2 or S2, is the ultimate thoughtful robot, ideal for education as well as hobbyists. The S2 is particularly well adapted to younger people who want to discover robotics programming.
The scribbler 2 or S2 is a compact, complete and thoughtful robot, probably the best suited for exploring robotics and programming in robotics.
Technical specifications of the Scribbler 2 robot
The technical specifications of the Scribbler 2 are:
1 x Propeller microcontroller (this is the microcontroller used by the StingRay robot, a highly parallel microncontroller)
Powered by 6 batterie 1,5V AA (not included)
3 x light sensors
1 x infrared distance sensor (with 2 alternating infrared emitters) for object detection and obstacle avoidance
1 x Speaker so that the robot can emit modulated sound (programmable)
3 x colored leds so that the robot can indicate some information (programmable)
1 x power light
1 x programming port (for serial cable)
2 x line sensor (for detecting lines on the ground)
1 x stall sensor
2 x DC motors provide 20-80 RPM wheel speed
1 x encoder feedback to get information about the effective rotation of the wheels, then allowing you to program better movements and position of your robot.
1 x microphone that allows the robot to hear the sounds emitted by other S2
1 x pen port so that the robot can draw its movements on the ground using the pen (not included)
The Scribbler 2 robot is has preprogrammed behaviors so that you can see the result of a robotic behavior already achieved. These behaviors are documented to inspire your own programs.
To learn more about the Scribbler robot 2 click on the video below:
Click on the following image to download the Scribbler 2 PDF documentation (startup guide):


Open-Source Hardware Designs In Progress

The Scribbler 2 robot is ROSH compliant
Programming the Scribbler 2 robot
A free graphical programming software is available to program the Scribbler 2 robot. This software is easy to use. To download now this software, click on the following image:
Customers who viewed this item also viewed