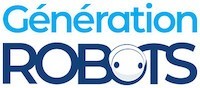 My Cart
0
item(s)
-
€0.00
There are no more items in your cart

Parallax robot Stingray
Stingray has been designed for performance with its multiprocessor Propeller chip.

The Stingray robot from Parallax Inc. provides a mid-size platform for a wide range of robotics projects and experiments. The Propeller Robot Control Board is the brains of the system providing a multiprocessor control system capable of performing multiple tasks at the same time. The Propeller chip provides eight 32- bit processors each with two counters, its own 2 KB local memory and 32 KB shared memory. This makes the Propeller a perfect choice for advanced robotics and the Stingray robot.
kit contents:
Multicore Propeller chip based control board
Extra large EEPROM (64 KB) for storing additional data
On-board 3.3 V & 5V switching power supply
5 V I/O translators to simplify interfacing to 5 V sensors/devices
Integrated dual full bridge driver
Two DC spur gear motors
Two-wheel differential drive system with rear omnidirectional wheel
Multiple mounting locations for sensors, add-ons, etc.
Free online Propeller Tool programming software for Windows and example Stingray source code (requires Win2K/XP/Vista, IE7 or higher, and USB port)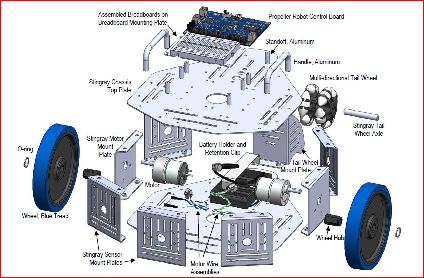 Below is a view of the Propeller controller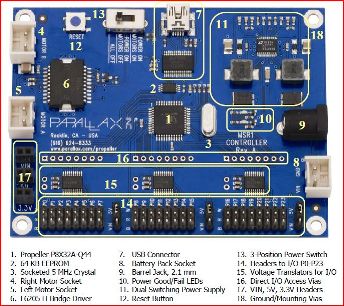 The robot needs 6 AA batteries (not included).
The communication between the robot and the PC uses a USB cable included in the kit.
Dimensions, assembled: 13 x 10.9 x 5.5 in (330 x 277 x 140 mm)
Download the PDF documentation of the StingRay robot:
PDF documentation of the StingRay robot

Customers who viewed this item also viewed