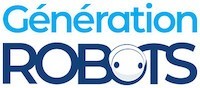 My Cart
0
item(s)
-
€0.00
There are no more items in your cart
Eddie Control Board
Control Board for the
Eddie robot
. This control board uses a Propeller microcontroller from Parallax that can pilot Eddie motors and sensors. This control board is also adapted for other robots.
DISCONTINUED.
Eddie Control Board with Power Connector
This robot control board for Eddie features a P8X32A Propeller microcontroller. The Propeller is the famous microcontroller from Parallax that offer parallel processing capabilities, so useful for robotics with its height 32bits cores.Although the controller board offers a wide range of possible input voltages, it was originally designed for robotic applications powered by 12V direct current, such as the robot Eddie with Microsoft Kinect.
Technical specifications of the Eddie Control Board with Power Connector
The technical specifications of this robotic control board are:
Powered by the Propeller P8X32A with eight 32-bit cores
Integrated high-current motor drivers
Eight-channel 10-bit ADC
Up to 16 general purpose digital I/O
On-board regulated power supplies for 12 V, 5 V, and 3.3 V.
Three auxiliary power ports provide switchable battery voltage for accessories
Four 0.125" diameter mounting holes for #4 screws, spaced at 4.60 x 3.35 in (11.68 x 8.51 cm)
Power connector with three (3) 2-ft ,14 AWG crimped cables included
Communication: USB mini-B connector (enumerates as a serial COM port)
Dimensions: 5.05 x 3.80 x 0.97 in (12.83 x 9.65 x 2.46 cm)
Operating temp range: 32 to 158 °F (0 to 70 °C)
Application Ideas for the Eddie control board
Although this control board is used with the Eddie robot, it is also perfectly suited for many other robotic projects. Possible applications for mobile robots are:
Autonomous navigation robots
Telepresence robots
Two-wheeled balancing robots
Robotic arm
Manufacturing automation equipment

Customers who viewed this item also viewed