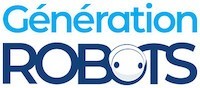 My Cart
0
item(s)
-
€0.00
There are no more items in your cart


Eddie Robot Platform
Available
:Eddie robot is the official robotic hardware platform for the new Microsoft Robotics Studio !
Eddie robot – the robotics platform from Parallax
Eddie robot is an autonomous mobile robot carrying a laptop and a Microsoft Kinect.
The robot Eddie is the reference platform chosen by Microsoft for the launch of its new Microsoft Robotics Studio integrating the Kinect SDK and allowing the use of powerful algorithms provided by Microsoft that can take advantage of the Kinect in terms of recognition 3D human shapes.
Eddie robot is sold unassembled, without Kinectand without laptop.
Eddie robot platform - technical specifications
The Eddie robot platform presents the following specifications:
Compliant with the Reference Platform Design specification of Microsoft
Dual-platform design with plenty of room for electronics and on-the-go programming laptop access
Two drive wheels with high-torque 12 VDC motors and position controllers
Front and rear dual-tire caster wheels for platform stability
Durable pneumatic rubber tires easily traverse hard floors and carpet
Five distance sensors (three infrared and two ultrasonic) for collision avoidance
Fully integrated control board handles all lower-level hardware operations to drive motors and collect sensor data
Simple USB connectivity between control board and your laptop
12 V, 14.4Ah gel-cell batteries for 4–7 hours of continuous operation
Programming the mobile robot Eddie and its Kinect sensor
The Eddie robot is fully compatible with Microsoft Robotics Developer Studio 4. This programming software is free and you can download it from the Microsoft Robotics Studio website to program the Eddie robot: http://www.microsoft.com/robotics
Microsoft Robotics Developer Studio is a complete set of softwares with the IDE (Visual Studio), the graphical programing environment for high level ochestration (Microsoft Visual Programming Language), the simulator (Microsoft Visual Environment) and its parallel programming model: CCR/DSS.

Video showing how to assemble the Eddie robot
Eddie robot and Microsoft Kinect: technical documentation
Here are some links to technical documents about the Eddie robot with Microsoft Kinect.
Eddie robot and Microsoft Kinect: usage example
Customers who viewed this item also viewed