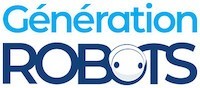 My Cart
0
item(s)
-
€0.00
There are no more items in your cart
KoreBot II Embedded PC for the Khepera III robot
KoreBot II is a robust and powerful miniature embedded PC board running Linux specifically designed for applications in mobile robotics and embedded electronics.
Based on an Intel Xscale microprocessor, it enables advanced developments providing Khepera III with more computation power than a simple microcontroller
Specifically designed by K-Team to be used in mobile robotics, the KoreBot II board will fulfill the needs of miniature robots and embedded electronics developers.
As compact as a credit card, KoreBot II is a reliable and powerful platform based on an Intel Xscale processor. Ready to be used out of the box, very compact and expandable, the KoreBot II board adds incredible capabilities to Khepera II and allow developing a wider range of projects needing more embedded computing power than a simple microcontroller.
KoreBot II technical specifications
Processor: Intel Xscale PXA-270 running at 600MHz
RAM: 128MB
Flash: 32MB
Power supply: 5V – integrated converter to supply 3.3V to other peripherals
Connectors: 1x Compact Flash, 1x uSD, 1x KB 250 Interface, 2x RS-232, 1x USB host, 1x Gumstix extension
KB-250 interface : 3x RS-232 (including a Bluetooth compatible port), 3x USB hosts, 1x MMC controller, 1x LCD controller, 1x I2C bus (400kbps), 1x SSP/SPI (1.8 Mbps) 1x AC97 controller, 2x PWM
Oerating system: Linux 2.6.x (OpenEmbedded Ansgtröm Distribution)
License: GPL for the bootloader
Development environment: executable format bootloader. GNU / Linux based development environment
Size: 85mm x 57mm x 33mm
Weight: 52g
Customers who viewed this item also viewed