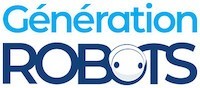 My Cart
0
item(s)
-
€0.00
There are no more items in your cart
DARwIn-OP FSR-Embedded Foot Set
The DARwIn-Op humanoid robot takes another step in performance and autonomy with this feet with pressure sensors.
FSR foot set for the DARwIn-OP humanoid robot
Set of two feet for the Darwin-OP humanoid robot with FSR sensors (Force Sensing Resistor), to know at all times if the feet of the humanoid robot are touching on the ground.
The DARwIn-OP robot is not supplied in standard with the pressure sensors, so it can not know if its feet touch the ground effectively. Once equipped with these FSR sensors, the robot has more information about its equilibrium state on one or two feet, which enables the design of more sophisticated behaviors for the robot.
Technical specifications of the FSR foot set for the DARwIn-OP humanoid robot
Each foot contains four sensors, which provides very valuable information on whether the feet touch the ground or not.
The technical specifications are:
Uses TTL communication, and can be daisy chained to DARwIn-OP.
4 sensor (per foot) x2
Measurement Range: 0.493~65.535N
Command Signal: Digital Packet
Protocol: Half duplex Asynchronous Serial Communication (8bit,1stop,No Parity)
Link(physical): TTL Level Multi Drop (daisy chain type Connector)
ID: 254 ID (0~253)
Baud Rate: 7843 bps ~ 3 Mbps
Feedback Functions : Position, Temperature, Load, Input Voltage, etc.
Standby Current: 50mA
Compatible Products: DARwIn-OP, Dynamixel MX-28, Dynamixel RX-28, Dynamixel RX-24F.
Video presenting the FSR foot set for DARwIn-OP robot
Customers who viewed this item also viewed