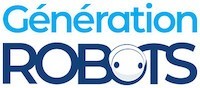 My Cart
0
item(s)
-
€0.00
There are no more items in your cart
Personal communicating robot Aisoy1
Based on Raspberry Pi, programmable using ROS, the social robot AISoy1 has everything you can dream of. You can easily design your own interactive application for AISoy1 and share it with the community.
AISoy1 integrates thefamous chatscript chatbot, the wifi, Nuance speech recognition engine, cameras for object and face recognition, a touch sensor, a 3D positioning sensor... Aisoy1 is a must have
Aisoy1, a programmable social robot
AISoy1 is a programmable robot, able to interact in a social manner with his interlocutors. AISoy1 is a companion robot for entertainment with its strong social interaction skills such as computer vision, speech recognition and emotional engine.
With Aisoy1you can create interactive behaviours based on voice (voice recognition and voice synthesis), create special atmospheres of light thanks to its integrated RGB LEDs, create emotions by playing on the expressive parts of the robot (eyes, eyebrows and mouth), play music through its speakers, deliver messages using the wifi connection... The world of communicating objects and social robotics is within easy reach thanks to Aisoy1.
The high-level features of this robot are as follows:
Airos1, an emotional engine
Sensitive capabilities (touch, temperature and 3D tilt sensor)
A machine vision system for recognition of objects and facial recognition.
A system of social notifications (messages sent via Wifi)
A speech synthesis engine and a voice recognition engine available in 3 languages​​: Spanish, French and English
The following two videos (in Spanish) are a few examples of the capacities of the AISoy1 robot. In the first video, the emotion engine and the ability to develop a personality are shown. In the second video, it is the sensor and the motor dialog of Aisoy1 that are highlighted.
Technical specifications of the social robot Aisoy1
Aisoy1 robot uses a Linux operating system.
Size and weight of Aisoy1
Height: 22,30 cm.
Width: 16,30 cm.
Depth: 15,60 cm.
Weight: 1,5Kg.
Hardware performance of the robot Aisoy1
Processor 700 MHz ARM1176JZF-S core.
512 MB SDRAM
WiFi 802.11n
Rechargeable battery NiMH 7,2V 2,4Ah (4 hours of standard use, power cable is supplied with the robot).
miniUSB
HDMI port
Sensors available on robot Aisoy1
3D position sensor
Touch sensitive sensor
Camera 1Mpx (in the left eye).
Microphone
Servomotors and expressive elements of the robot Aisoy1
Aisoy1 social robot has 3 mini servos allowing him to move the neck, eyelids and eyebrows, giving some of the expressive capabilities to the robot. The matrix screen representing the mouth to illustrate lip movements or display text, contributes to improve expressivity of the robot. Finally, an RGB LED placed in the torso of the robot can display colors corresponding to emotions.
Programming the Aisoy1 social robot
In order to make Aisoy1 programming accessible to most people, several programming methods are available:
The graphical programming interface DIA targets people unfamiliar with programming (cf. screenshot below): it is directly installed on the robot and can be used with a Web browser (best used with Chrome). Behaviors can be described as actions connected to events. It is also possible to integrate Lua code directly inside the interface, allowing you to describe complex behaviors and even to do some image analysis using OpenCV.
For more advanced users, Aisoy1 can also be programmed using the ROS framework. It allows you to integrate Aisoy1 to the large ecosystem of ROS packets and therefore to use all the existing functionalities. Using this approach it is possible to remotely control Aisoy1 from any computer but also to offload the execution of complex parts of the behavior to a more powerful computer.
For people who are interested in high performance or low-level access, a C++ programming interface is also provided. It allows you to write complex behaviors and execute them directly on the robot, making the best usage of the available resources.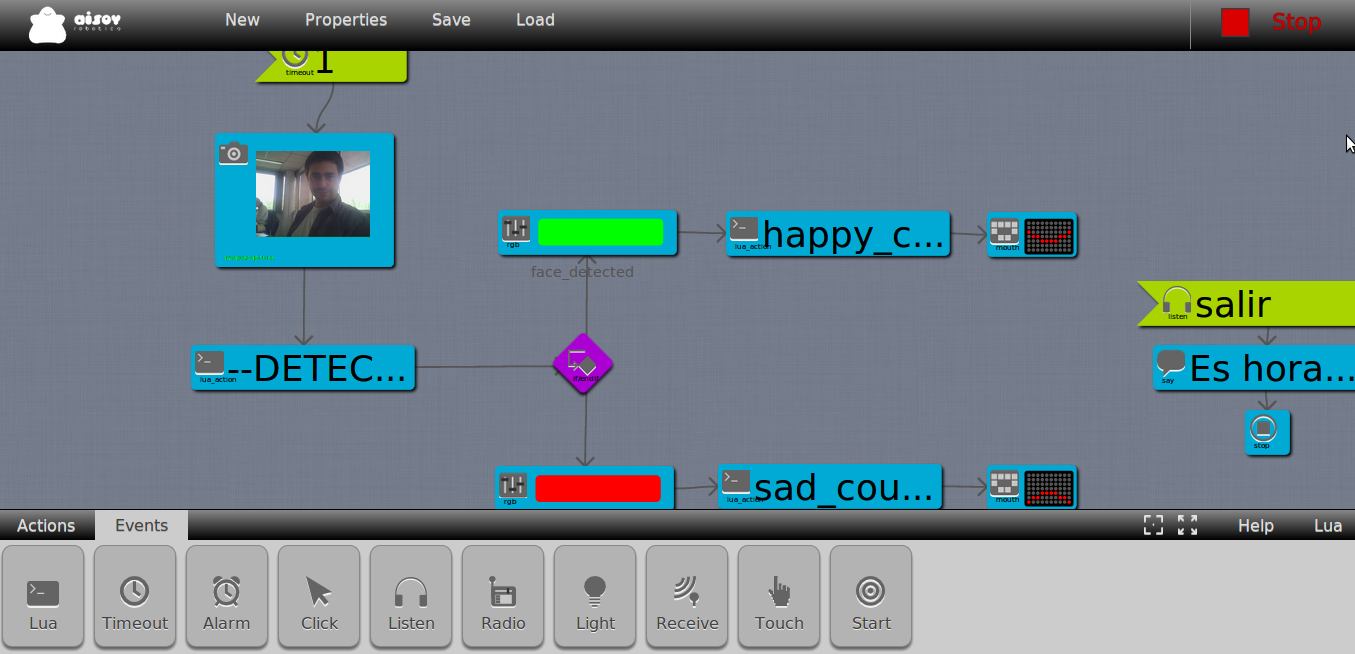 Customers who viewed this item also viewed