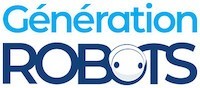 My Cart
0
item(s)
-
€0.00
There are no more items in your cart
Lego Mindstorms Education EV3 Software Site Licence
The multi-user version of the graphic programming software for
Lego Education EV3
was designed to allow teachers to introduce pupils and students to programming.
Lego Mindstorms Education EV3 Software Site Licence: ideal for schools!
This Lego Mindstorms Education EV3 Software Site Licence allows you to install and use the software on all the computers within a single institution. The tool was designed to be easy to learn and use by students. It is based on the LabVIEW software by National Instruments, one of the leading graphical programming software packages in the world of industry and science.
The Lego Education EV3 Software has been optimised for use in a school environment by drawing inspiration from the latest advances in the field of intuitive software design, making it perfectly accessible to students with no particular knowledge of programming.
A hugely popular graphical interface
Programming in the Lego Education EV3 Software environment is done by dragging and dropping different icons. Its graphical interface is quickly understood by students, enabling them to create simple programs and improve their skills until they're capable of developing complex algorithms.
The Lego Education EV3 Software also includes data collection tools making it easy to acquire, view, analyse and manipulate data supplied by sensors in interactive graphs.
One of its main advantages is its "graph programming" feature, which brings experiments to life by enabling students to set threshold values for sensors to trigger events accordingly, for example to produce a sound when a certain temperature is reached.
The content editor built into the Lego Education EV3 Software also allows teachers to not only change the existing examples but also create their own lessons. It enables students to integrate their work into the educational content, making assessments easier.
The Lego Education EV3 Software also comes with educational tools, including 48 detailed multimedia tutorials illustrating the features available in the software, the existing hardware and the data collection tools.
Customers who viewed this item also viewed