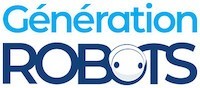 My Cart
0
item(s)
-
€0.00
There are no more items in your cart
ELEV-8 Y-6 Multicopter Kit
This ELEV-8 Y-6 Multicopter Kit has 6 motors and an improved payload and redundancy
ELEV-8 Y-6 Multicopter Kit
The Multicopter ELEV-8 Y-6 personal UAV has the distinction of having two motors on all 3 axes, a motor above and another below. Compared to the original configuration, this gives the ELEV-8 Y-6 Multicopter and improved payload capacity (up to 2 kg) and also enables redundancy if one engine were to no longer function.
Stabilization of the ELEV-8 Y-6 Multicopter UAV is controlled electronically by the hoverfly board and the Propeller (the muticore microcontroller from Parallax). The ELEV-8 Y-6 Multicopter UAV is a small, agile and manoeuvrable drone that will delight enthusiasts.
This kit contains everything you need to build a multicopter drone: the hardware structure, motors, electronics, propellers ... The batteries (2x 3300mAh 3s LiPo 20C) are not included as well as an equipment for radio control (5 or 6 channels RC radio is recommended such as the OPTIC 5 Radio Control System at 2,4Ghz from HITEC).
This ELEV-8 Y-6 Multicopter Kit is not for beginners. it requires a moderate amount of mechanical skill to build and fly. In particular, the propellers of the drone are not protected and are likely to hurt. Generation Robots can not be held responsible in case of accident.
Documentation for the ELEV-8 Y-6 Multicopter Kit
Customers who viewed this item also viewed