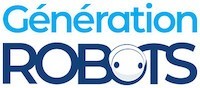 My Cart
0
item(s)
-
€0.00
There are no more items in your cart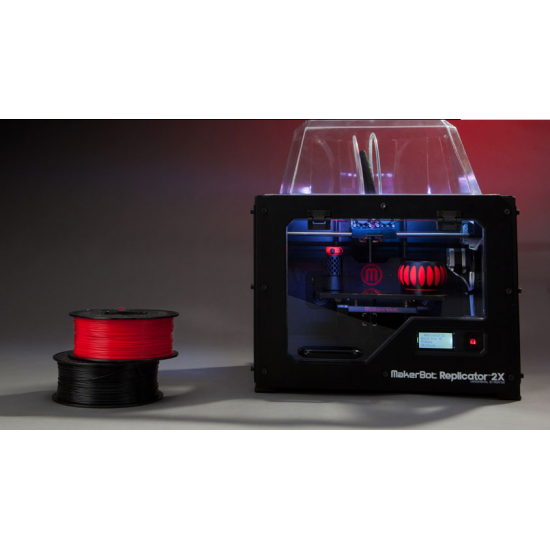 Replicator 2X MakerBot 3D Printer
The 3D Printer MakerBot® Replicator™ 2X is the big brother to the 3D Printer MakerBot Replicator 2 Desktop. The 3D Printer MakerBot Replicator 2X is equipped with two extruders and optimized for the traditional thermoplastic ABS filament.
About 3D Printing
3D printing, also called additive manufacturing, is a process of making a three-dimensional solid object of virtually any shape from a digital model. 3D printing is distinct from traditional machining techniques, which mostly rely on the removal of material by methods such as cutting or drilling.
3D printers were very big and costly in the past, however MakerBot now sells high-range 3D printers designed, sized and affordable for a professional and domestic use.
3D Printer MakerBot Replicator 2X measures indeed 49 L x 42 W x 53.1 H cm [19.1 x 16.5 x 20.9 in] (with spool), making it ideal for a preofessional or domestic environment.
Presentation of the 3D printer MakerBot Replicator 2X
Designed for 3D printing experts working in R&D who want to blaze a trail into the future of 3D printing, the MakerBot Replicator 2X features experimental dual extrusion and uses the familiar petroleum-based thermoplastic MakerBot ABS Filament. The MakerBot Replicator 2X is an even more advanced extension of MakerBot's most recent new product, the MakerBot Replicator 2.
The following video shows the 3D printer MakerBot Replicator 2X in action:
Key features of the 3D printer MakerBot Replicator 2X
Features include:
Super flat heated build plate optimized for ABS
Completely Re-engineered easy-load extruder
Dare to "Dual": Dual Extrusion 3D printing
Six-sided enclosure for stabilized ABS cooling.
Everything you expect from a MakerBot Replicator 3D Printer including 100-micron layer-height resolution.
MakerBot MakerWare that speeds the 3D printing process
Responsive, expert MakerBot customer support
3D printer MakerBot Replicator 2X specific features
Thanks to the super flat heated build plate optimized for ABS you can get prints that stick since the high-tolerance build plate is machined for crucial flatness to prevent warping or sagging that can affect print quality.
The easy-load filament lever makes loading filament as easy as flipping a light switch, and the Re-designed filament feeding system dramatically reduces stripping, skipping, and jamming.
The dual extrusion 3D printing gives a new level of creativity to your 3D design with interlaced colors, and the precisely aligned dual nozzles give perfect prints in one or two colors.
Enclosed sides block drafts and stabilize the ABS cooling period for less cracking and peeling.
The MakerBot MakerWare software helps you to experiment with layer height resolutions much finer than 100 microns.
3D printer MakerBot Replicator 2 Software and System requirements
The 3D printer MakerBot Replicator 2X Desktop is compatible with Mac, Windows, and Linux operating systems. In order for your computer to communicate with the MakerBot Replicator 2, you need to download our new 3D printer MakerBot MakerWare Desktop software. MakerWare is free software that includes everything you need to prepare models for your MakerBot, including a lightning fast toolpath engine and a brand new user-friendly interface.
3D printer MakerBot Replicator 2X Resources
On the MakerBot community site Thingiverse, MakerBot owners can access and contribute to a "universe of things. Over 28,000 projects, models, and things are available that can be downloaded and printed on a 3D printer MakerBot Replicator 2X Desktop!
You can find more details about 3D printer MakerBot Replicator 2X in the following documents:

MakerBot Thingiverse Community

3D printer MakerBot Replicator 2X PDF brochure

Customers who viewed this item also viewed