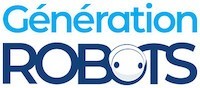 My Cart
0
item(s)
-
€0.00
There are no more items in your cart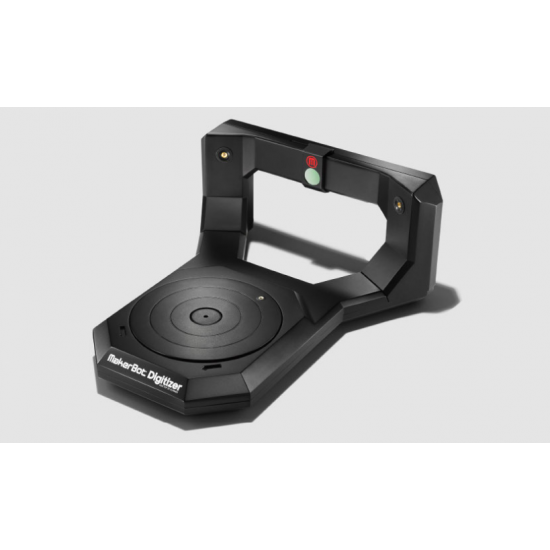 3D scanner MakerBot Digitizer
About 3D Printing
3D printing, also called additive manufacturing, is a process of making a three-dimensional solid object of virtually any shape from a digital model. 3D printing is distinct from traditional machining techniques, which mostly rely on the removal of material by methods such as cutting or drilling.
3D printers were very big and costly in the past, however MakerBot now sells high-range 3D printers designed, sized and affordable for a professional and domestic use. Combined with a 3D scanner MakerBot Digitizer you can improve physical objects before printing them in 3D or professional or domestic use.
3D scanner MakerBot Digitizer measures indeed 47.5 L x 41.1 l x 20.3 H cm (18.7 x 16.2 x 8 inches), making it ideal for a preofessional or domestic environment.
You can find in this video an introduction to 3D scanner Makerbot Digitizer:
Présentation of the 3D scanner MakerBot Digitizer
The 3D scanner MakerBot Digitizer features a camera and two lasers enabling the capture of real object dimensions, scan it and create a digital file without any design or 3D modeling program experience. The 3D scanner MakerBot Digitizer has been optimised to create files for 3D MakerBot printers, and to allow users to share their 3D models on the MakerBot community site Thingiverse.com.
This 3D scanner will get you started quickly when it comes to 3D modelising and prototyping, so you can make various 3D objects such as figurines, sculptures or artworks.
You only need to connect 3D scanner MakerBot Digitizer to a computer and you're ready to start!
Key features of the 3D scanner MakerBot Digitizer
The 3D scanner helps you to:
Make solid 3D models in a few clicks without any design, 3D modeling skills or CAD expertise
Create standards 3D design file formats (STL format) that can be modified in third-party 3D modeling programs like Autodesk's free software MeshMixer
Easily upload scans directly to MakerBot's Thingiverse.com,
the community for discovering and sharing 3D printeable things with more than 100,000 members.
Digitize physical objects up to 8" (20 cms) in diameter and 8" (20 cms) tall and up to 3 kg (6.6 lbs.)
The 3D scanner MakerBot Digitizer is equiped of the MakerBot MultiScan technology enabling you to scan objects from multiple angles in order to capture top, bottom and hidden sides of your objects, before merging them in order to have the best possible 3D model.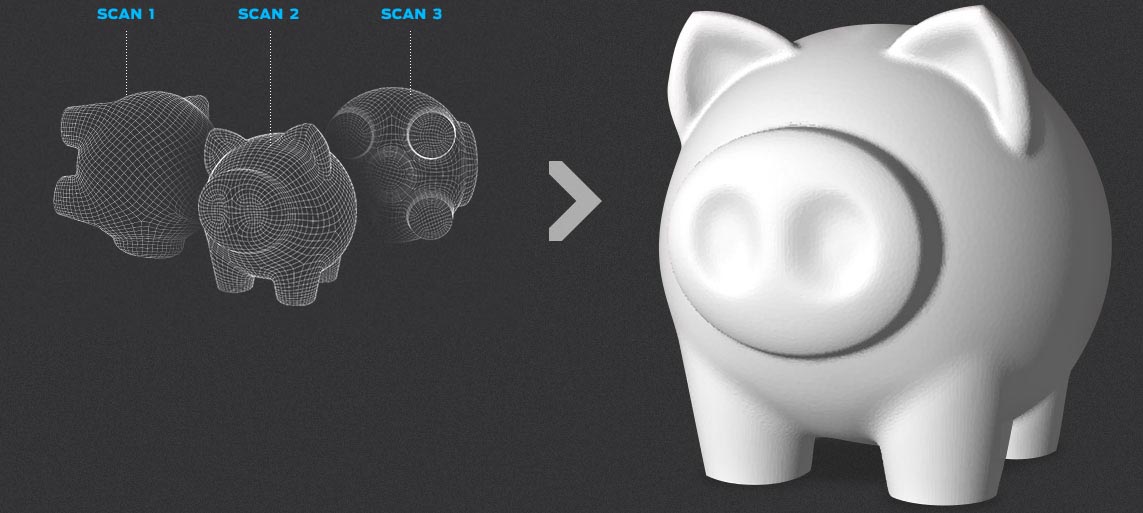 The MakerBot Digitizer captures enough points to create about 200,000 triangles for each new 3D model. It can capture details as small as 0.5 mm, and surface depth as shallow as 0.5 mm. The dimensional accuracy of the MakerBot Digitizer's is ± 2 mm, meaning that when you scan an object, the dimensions of your 3D model will be within 2 mm of your original object.
Software for the 3D scanner MakerBot Digitizer
MakerBot MakerWare for Digitizer software is included in the purchase. This simple, yet sophisticated software creates clean, watertight 3D models with just two clicks, and delivers a digital design file in approximately 12 minutes.
NOTE: MakerWare for Digitizer is not a 3D modeling program.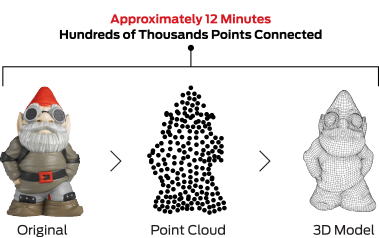 Resources for 3D scanner MakerBot Digitizer:
On the MakerBot Thingiverse community, you can contribute to a "universe of objects" with the 3D scanner MakerBot Digitizer by sharing your 3D models with other MakerBot printers owners.

MakerBot Thingiverse community
You can find more details about the 3D scanner MakerBot Digitizer in the following documents:

3D scanner MakerBot Digitizer user guide in PDF version

3D scanner MakerBot Digitizer getting started guide in PDF version

Customers who viewed this item also viewed