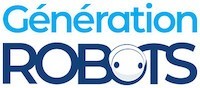 My Cart
0
item(s)
-
€0.00
There are no more items in your cart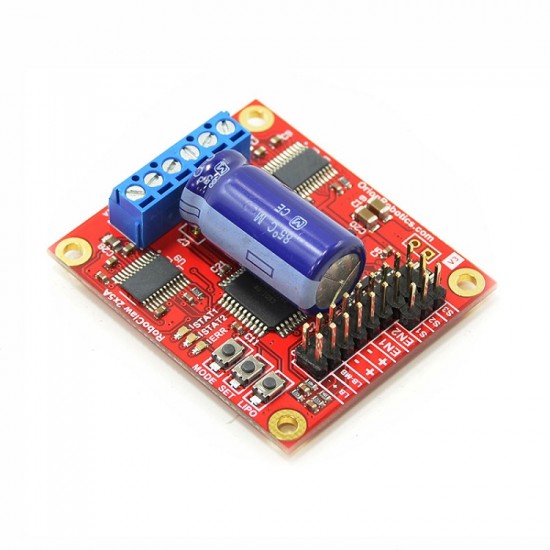 RoboClaw 2x5A Motor Controller (V5)
The RoboClaw 5A Motor Controller offers numerous advantages that you will find soon become indispensable for your mobile robot projects. It is capable, alone, of controlling
two brushed DC motors
at up to 5 A (continuous). It can also be used as a dual optical decoder (one for each motor).
RoboClaw 2x5A Motor Controller (V5): Control and regeneration
Controlling your robot motors has never been easier thanks to the RoboClaw v4: it lets you control two motors at the same time at up to 5 A (including short-duration peaks up to 10 A). Control your two motors via a TTL interface, from your PC using a USB-serial adaptor, by ESC (Electronic Speed Control) radio control, or using potentiometers and analogue joysticks with an analogue voltage. The RoboClaw Motor Controller is also able to regenerate its power, since it uses regenerative synchronisation technology with the movements of your robot.
RoboClaw 2x5A Motor Controller (V5): A dual optical decoder so you don't miss anything ever again
The onboard dual optical decoder included on this motor controller will enable you to accurately measure the speed and position of your robot in order to make the appropriate corrections. You can also create a closed-loop control system, where your motor will maintain the same speed, regardless of load variations, and the position you want thanks to analogue feedback. We said it before: you'll never miss anything again!
Technical specifications of the RoboClaw 2x5A V5
Bidirectional motor controller for two brushed DC motors
Models available: 5 A, 15 A, 30 A, and 60 A
Operating voltage: 6–34 V (depending on the model)
Automatic limiter system when current is 1× to 2× the controller's rated current
3 communication options:

TTL interface for direct connection with microcontrollers and other onboard controllers, or connection to a PC via a serial port or USB-serial adaptor
Hobby radio control (RC) pulse width interface for direct connection to an RC receiver or RC servo controller
Analogue voltage interface (0–2 V, withstands up to 5 V) for direct connection to potentiometers and analogue joysticks

Two feedback inputs for closed-loop control:

Speed control with quadrature encoders: over 19.6 million encoder pulses per second
Position control with analogue encoders and potentiometers
Open-loop control without feedback also available

Screw terminals for fast connection/disconnection
Can be configured using a push-button interface
Regenerative braking
Handles high-speed changes of direction
BEC 5 V jumper
Protection against abrupt battery discharge
Resources for RoboClaw 2x5A Motor Controller (V5):
Below you will find some documents that will help you get started more rapidly:
Customers who viewed this item also viewed