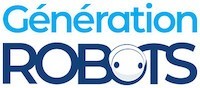 My Cart
0
item(s)
-
€0.00
There are no more items in your cart


Arduino Robot without power plugs
Discover the first official Arduino mobile robot. This small mobile robot from Arduino has two Arduino boards, one for motors control and the other for high-level control logic.
Arduino Mobile robot
This programmable mobile robot is the first official robot from Arduino. Using two Arduino boards each one having its own ATmega32u4 microcontroller, this mobile robot is a good opportunity to learn or to improve your knowledge of Arduino programming.
The first Arduino board is the Motor Board that control motors. The second board is the Control Board which receives information from the sensors and take high level decisions. Such an architecture using two boards is common in robotics. One board manages all the computing related to motor control (Management of the PWM signal). The other board has then more computing power to handle trajectory planning, sensor integration... These boards are Arduino board that are programmable using Arduino IDE.
The programming of the Arduino robot is similar of the programming of the Arduino Leonardo board. Indeed, each processor has an on-board USB communication, thus limiting the necessity of a second processor. Your Arduino robot appears on your PC as a virtual COM port.
Technical specifications of the Arduino robot
The Arduino robot has the following technical specifications:
An LCD screen
A compass
A control pad (5 buttons on the Arduino robot)
A speaker
A knob
5 distance infrared sensors below the robot (for line following on the ground)
A Micro-SD card
The diameter of the robot is 18.5 cm and its height is 9cm.
In addition to the Arduino robot, the box contains:
A USB cable
A SD-Card adapter
4 rechargeable batteries
NOTE: This version doesn't contain any power adapters, don't forget to purchase an Arduino power adapter.
The control board of the Arduino robot
As explained above, this board if the mainboard of the Arduino robot, that runs the high level program that takes movement decisions of the robot and transmits the orders to the motor board. This board is the brain of the Arduino robot. Its technical specifications are as follows:
Microcontroller ATmega32u4
Operating Voltage 5V
Input Voltage 5V through flat cable
Digital I/O Pins 5
PWM Channels 6
Analog Input Channels 4 (of the Digital I/O pins)
Analog Input Channels (multiplexed) 8
DC Current per I/O Pin 40 mA
Flash Memory 32 KB (ATmega32u4) of which 4 KB used by bootloader
SRAM 2.5 KB (ATmega32u4)
EEPROM (internal) 1 KB (ATmega32u4)
EEPROM (external) 512 Kbit (I2C)
Clock Speed 16 MHz
Keypad 5 keys
Knob potentiometer attached to analog pin
Full color LCD over SPI communication
SD card reader for FAT16 formatted cards
Speaker 8 Ohm
Digital Compass provides deviation from the geographical north in degrees
I2C soldering ports 3
Prototyping areas 4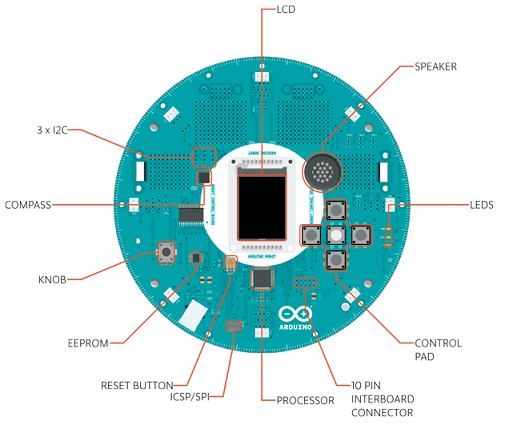 The motors control board of the Arduino robot
This control board manages the motors of the Arduino robot. It receives commands from the main control board. Its technical specifications are as follows:
Microcontroller ATmega32u4
Operating Voltage 5V
Input Voltage 9V to battery charger
AA battery slot 4 alkaline or NiMh rechargeable batteries
Digital I/O Pins 4
PWM Channels 1
Analog Input Channels 4 (same as the Digital I/O pins)
DC Current per I/O Pin 40 mA
DC-DC converter generates 5V to power up the whole robot
Flash Memory 32 KB (ATmega32u4) of which 4 KB used by bootloader
SRAM 2.5 KB (ATmega32u4)
EEPROM 1 KB (ATmega32u4)
Clock Speed 16 MHz
Trimmer for movement calibration
IR line following sensors 5
I2C soldering ports 1
Prototyping areas 2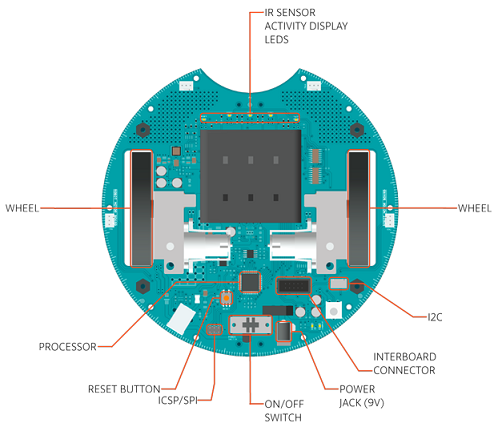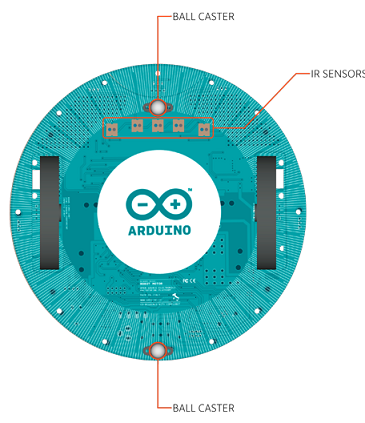 More technical informations of the Arduino robot are available at http://arduino.cc/en/Main/Robot
Customers who viewed this item also viewed