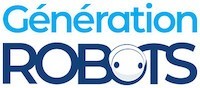 My Cart
0
item(s)
-
€0.00
There are no more items in your cart
LPG Gas Sensor
This sensor measures the level of LPG (propane) in the air.

Presentation of the LPG Gas Sensor
The LPG (Propane) Gas Sensor 605-00009 compatible with this support for gaz sensor is designed to allow a microcontroller to determine when a preset propane gas level has been reached or exceeded. Interfacing with the sensor module is done through a 4-pin SIP header and requires two I/O pins from the host microcontroller. The sensor module is mainly intended to provide a means of comparing propane sources and being able to set an alarm limit when the source becomes excessive
The CO Gas Sensor is compatible with the Boe-Bot robot.
Note: Parallax does not provide gas calibration data on the module and such data and alarm setting is the responsibility of the user to define. For information on user calibration please see the PDF documentation of the Gas sensor module.
Warning : Be aware that high concentrations of propane can be deadly. Always be careful to perform gas tests in well-ventilated areas. This LPG Gas Sensor in not designated for or approved for any application involving health or human safety. This LPG Gas Sensor Module is for experimental purposes only
Resources for the LPG Gas Sensor
Vous trouverez dans les ressources suivantes des liens et des documents qui vous aideront à démarrer plus rapidement.

User guide of the LPG gas sensor module v2.2

User guide of the LPG gas sensor module v2.3

Datasheet of the MQ-5 gas sensor

Customers who viewed this item also viewed