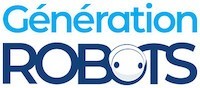 My Cart
0
item(s)
-
€0.00
There are no more items in your cart
Rotary Slip Rings
A-Drive Technology GmbH |
A-000000-01407
Small in size but BIG on quality, the SRC-012A-12AB Rotary Slip Rings can be incorporated into any system requiring this type of transmission.
Including €0.01 for ecotax
SRC-012A-12AB Rotary Slip Rings: almost perfect transmission
The rotary slip ring is the preferred device for conveying an electrical signal or power to a continuously-rotating or reciprocating system, and thereby to power it. The SRC-012A-12AB Rotary Slip Rings have been designed to minimise noise and imbalances that can occur between the brushes and the slip rings. Their compact size and the use of precious materials (gold and gold alloys) in their construction guarantee a faithfully-transmitted signal and long-lasting, sturdy slip rings.
Rotary slip rings: a wide range of signals
The high manufacturing quality of the rotary slip rings in the SRC series allows you to apply a wide range of signals: high-frequency signals like video, very weak signals (low voltage or power), or much more powerful signals (some slip ring models are available in 6 or 10A versions). Note too that your SRC slip rings are ideally suited to all types of projects, as you can change the connectors and cable dimensions, replace them with special cables, etc.
You will find schematics for the SRC-012A-12AB Rotary Slip Rings below: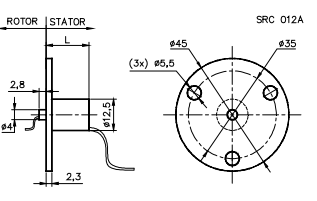 Technical specifications of the SRC-012A-12AB Rotary Slip Rings
Voltage: 240 Vdc / 240 Vac max.
Cables: silver-plated; PTFE insulation and colour coded
Cable length: 250 mm as standard (other lengths on request)
Dielectric strength: 500 Vac @ 60 Hz
Insulation resistance >1000 MΩ / 500 Vdc
Noise:
Dynamic contact resistance: typically 0.01 Ω
Nominal speed: 250 rpm
Temperature: -20 °C to +80 °C on aluminium models (option: -40 °C to +80 °C)
Bearings: miniature, precision steel ball bearings
Mounting: standard flange
Contact: gold
Life-expectancy assessment: 107 revolutions (depends on speed and environmental conditions)
Protection: IP51
Specific features of the SRC-012A-12AB model
Number of circuits: 12 (2A)
Diameter: 12.4 mm
Length: 19.5 mm
Dimension "A" : 2.8 mm
Dimension "C": 4 mm
Case: ABS***
Customers who viewed this item also viewed