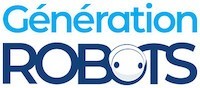 My Cart
0
item(s)
-
€0.00
There are no more items in your cart
OLLO Hinge white 5pcs
A OLLO hinge white 5 pcs come always handy for your figures from the OLLO-Action robotics kit.
OLLO hinge white 5 pieces: Your parts for OLLO Servomotors
White OLLO hinge are used for OLLO Action-Robot robotics kits, that you can use to create up to 12 different robots, from a dog to tyrannosaurus and even a helicopter!
They are used as parts for servomotors. Each kit includes a servomotor and one piece of hinge white OLLO.
OLLO hinge for robotics kit Action-Robot: You can now control more action figures
Are you an OLLO Action-Robot robotics kit fan? Then you need to know that designs are not limited to the models presented by the manufacturer.: It's now your turn to use your imagination to create your own figures. And if you want to use many servos for your new creation, then this Ollo Hinge set is ideal!
Technical specifications for OLLO hinge white 5 pcs
Joint OLLO hinge white 5 pcsx5
Compatible with Robotis OLLO robotics kits
Customers who viewed this item also viewed