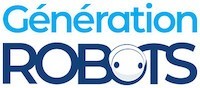 My Cart
0
item(s)
-
€0.00
There are no more items in your cart

MinIMU-9 v3 Gyroscope, Accelerometer and Compass Sensor
A newer version of the MinIMU-9 v2 inertial measurement unit, this MinIMU-9 v3 Sensor will supply your microcontroller with a series of 9 independent speed, rotation, acceleration and magnetic readings enabling you to estimate pitch, roll and yaw in the Arduino environment. DISCONTINUED
MinIMU-9 v3 Sensor: your mobile robot's nerve centre
The MinIMU-9 v3 Sensor combines 3 different types of sensor in a single module:
1 L3GD20H 3-axis gyro
1 LSM303D 3-axis accelerometer
1 3-axis magnetometer
Together, these three sensors form a very compact inertial measurement unit (IMU). Each sensor is created from a high-performance integrated circuit, but taken separately they are so small that they become hard to handle.
By combining these 3 sensors in a single unit, students and electronics enthusiasts can use them synchronously and without difficulty.
The 9 main readings provided by these three sensors are delivered via an I2C interface. They supply information on acceleration, rotation and the magnetic field (compass) so you can calculate the exact orientation of the device carrying the MinIMU-9 v3.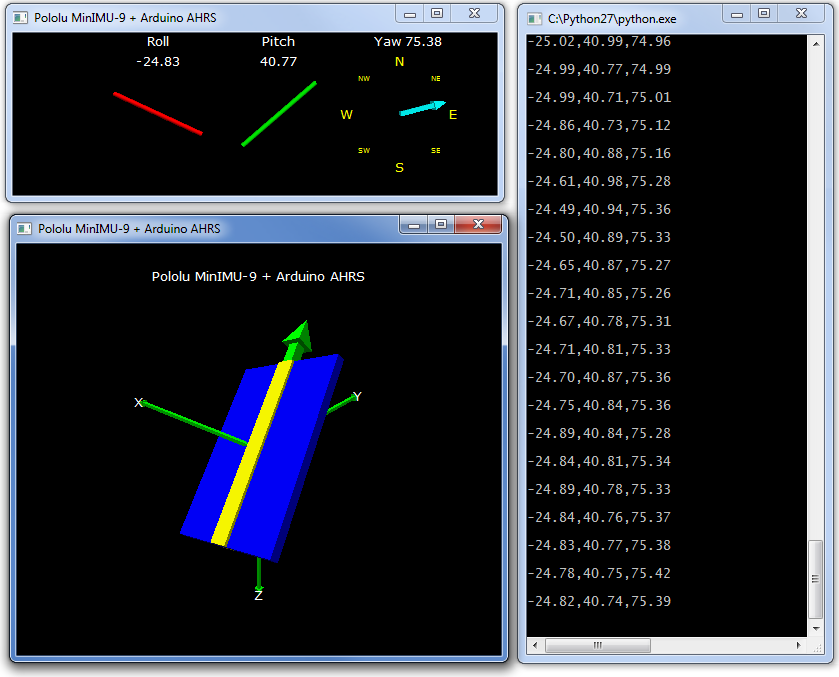 Like its 2nd version, the MinIMU-9 v3 Sensor is equipped with a voltage regulator and circuit allowing the passage of 2.5–5.5V.
The 2468 MinIMU-9 v3 Sensor: better than its previous version
This inertial measurement unit replaces the second version of the MinIMU-9 sensor. Although both devices offer similar functions, it's worth noting that the new built-in sensors are significantly better. The magnetometer has a wider sensing range and the gyro is both more accurate and stable.
Also of note is the module's better configuration, with pins spaced 2.54 mm apart making it easier to connect your MinIMU to a solderless board or a 0.1" perfboard.
Finally, the MinIMU-9 v3 Sensor is backward-compatible with the v2, and even with older versions provided you change the I2C addresses, and possibly some configuration registers in the Arduino software.
Technical specifications of the MinIMU-9 v3 Gyroscope, Accelerometer and Compass Sensor
Dimensions: 20.32 x 12.7 x 2.54 mm
Weight: 0.7 g
I2C interface
Minimum operating voltage: 2.5V
Maximum operating voltage: 5.5V
Axes: pitch, roll, yaw
Sensitivity:

Gyro: +/-245, +/-500, +/-2000 °/s
Accelerometer: +/-2, +/-4, +/-6, +/-8, +/-16 g
Compass: +/-2, +/-4, +/-8, +/-12 gauss

Supply current: 6 mA Resources for the 2468
MinIMU-9 v3 inertial measurement unit
Resources for the MinIMU-9 v3 Sensor
There are numerous downloadable resources to help you make the most of your 2468 MinIMU-9 v3 Sensor:

Pololu MinIMU-9 v3 Gyro, Accelerometer, and Compass diagram



Technical specifications and user guide for the UM10204 I2C bus

Arduino library (L3GD2H20 gyroscope)

Arduino library (LSM303 accelerometer)
Example of an Arduino program for a system combining the MinIMU-9 v3 inertial measurement unit and the AltIMU-10 v4 (providing access to information on pressure and altitude).
Customers who viewed this item also viewed