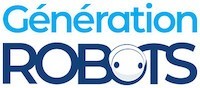 My Cart
0
item(s)
-
€0.00
There are no more items in your cart
Arduino 125 kHz RFID Kit
The essential kit for getting started with RFID! In addition it's Arduino compatible! DISCONTINUED.
Arduino 125 kHz RFID Kit: Essential for getting started with RFID
If like many electronics hobbyists you're interested in RFID technology, then don't hesitate to explore it. And this Arduino compatible 125 kHz RFID Kit is a great way to begin. It includes:
a 125 kHz (low frequency) RFID module fitted with a Sonmicro SM125 RFID chip
These are the basic ingredients for DIY creation based on RFID technology: you can use the 125 kHz RFID module as an RFID reader, and with certain badges it can also become an RFID writer (writing to an RFID card). It all depends on whether you want to use a read-only board (EM4100) or programmable boards (type T5557).
And remember that using an shield XBee, will make it all the easier to connect your RFID module to your Arduino Uno board.
Arduino 125 kHz RFID Kit: some application examples
To be honest, the possibilities offered by RFID are so numerous that your own imagination will take you far beyond all the examples we could give you. From the most basic to the most daring, possibilities include a door whose opening is controlled by RFID, an RFID shelving unit in your wine cellar providing information about the bottles stored there (very useful when the labels become unreadable!) and a toy capable of reacting to its surroundings. So start out with a simple RFID module and its board, then add numerous sensors and actuators to join in the fun!
Technical specifications of the Arduino 125 kHz RFID Kit:
RFID chip: Sonmicro SM125
UART interface: up to 115200 bps
I2C interface: up to 400 kHz
Supports Atmel / Temic T55xx and EM4102 (Unique) tags
Supports Manchester RF/64, Manchester RF/32 modulation
Resources for the Arduino Uno 125 kHz RFID Kit
Check out these two tutorials to get rapidly started with your Arduino RFID Kit :
Small video tutorial for an installation using RFID card reading
Customers who viewed this item also viewed