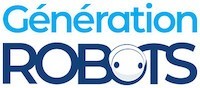 My Cart
0
item(s)
-
€0.00
There are no more items in your cart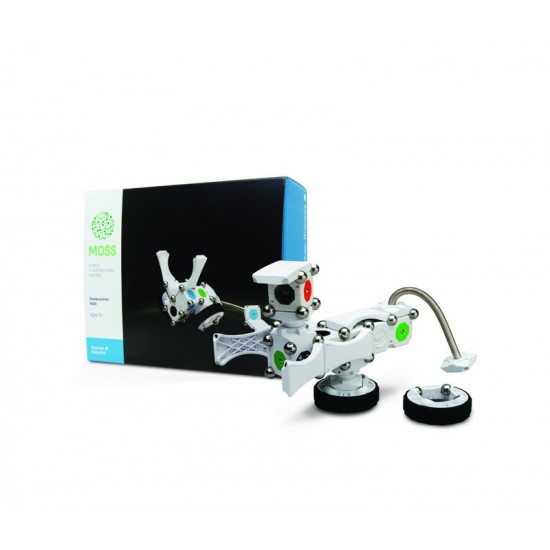 MOSS Zombonitron 1600
The Zombonitron 1600 kit is perfect if you want to discover MOSS, the new robotics kits created by Modular Robotics (who already brought us Cubelets). User-friendly and easy to build, you will be able to create hundreds of different robots! Highly recommended for the children age 8-15! DISCONTINUED.
A new generation of modular robots
MOSS is the latest generation of programmable robots released by Modular Robotics, who already brought us the Cubelets!
Ideal if you are starting out in robotics the MOSS robotics sets are modular and made up mainly of simple shaped components (cubes, wheels, spheres, blocks).
The way you connect these components together will determine your robot's behavior. Every block features magnet-backed corners, and the different blocks come together thanks to a clever system of little steel spheres snapping onto these magnets!
This unique building concept aims to give more flexibility to the robots when they move, and makes it much easier to assemble the various components.
Each face of the building cubes is colour-coded. There are 4 colours, each of them indicates a different functionality:
Green conducts Power
Brown conducts Data In
Red conducts Date Out
Blue is for Pass Through (Power or Data)
Let your imagination run wild!
The Zombonitron 1600 set by MOSS comes with a very handy quick start guide which will enable you to quickly grasp MOSS building system. This manual also features a few robots building instructions, which are clearly inspired by dinosaurs and other creatures, making this set especially popular with the youngsters!
But you can also let your imagination run wild and build your very own creations. The various motors and sensors enable your robots to interact with their environment and explore the world around them!
And should you want to further explore the possibilities of the MOSS robotics systems, the Exofabulatronixx 5200 kit, more advanced, will allow you to control your robots from your smartphone, and even teach them how to draw!
Discover robotics one block at a time…
The great thing with robotics (in addition to be fun!) is that it serves as a springboard to learn many other things! While playing with their Zombonitron 1600 set, your children will learn new concepts such as basic principles in engineering, programming, kinetics or robotics systems
This type of game is just ideal to stimulate one's scientific curiosity and creative mind!
Technical specification for the Zombonitron 1600 set by MOSS
The Zombonitron1600 set includes:
1x Extended Battery Block
2x Motor Block
2x Wheel
2x Corner Block
1x Proximity Sensor Block
1x Brightness Sensor Block
1x Long Flexy Block
1x Hub Block
4x Arch Brace
1x Short Brace
1x Micro-USB Cable
56x Carbon Steel Sphere
ATTENTION: the Zombonitron 1600 robotics kit features small steel spheres, and is not suitable for children younger than 8 year old.
Resources for the Zombonitron 1600 set by MOSS
Many resources have been uploaded online so you can quickly make the most of your new MOSS robotics set!

Instruction manual for the MOSS Zombonitron 1600
Customers who viewed this item also viewed